Fernando Reyes dreamt of making a positive impact in his community, and he's made that vision a reality through his local business, Certified Barbershop. He provides a high quality service to the community, in addition to creating a friendly and inviting gathering space.
A passion becomes a business
Fernando and his family moved to Southern Oregon from Southern California in 1997.
"My dad owned a food cart in the Talent area and he was there for 23 years. We got to see this area grow."
Fernando opened Certified Barbershop in 2017, but worked in another barbershop in Medford prior to that. When looking for a place to open his own shop, he decided on Phoenix because he attended high school there and his wife's family was born and raised in the Phoenix-Talent area.
Fernando has been barbering since 2015, and it's a skill that has interested him for many years.
"When I was a kid, I had an uncle in Mexico who was a barber. When I got to high school I enjoyed having a fresh haircut. But my parents didn't have the money to let me do it once a week," he said.
"So I learned to use the clippers and I cut my hair every Monday and Friday. It was a skill born out of necessity," he explained. "I started to cut my brother's and dad's hair, then my friends' hair, and it grew from there."
While Fernando was interested in barbering for a few years, it was a particular experience at school which ignited a fire within him.
"I went to Phoenix High School for a couple years, and during my senior year I wasn't doing very good. A counselor and teacher tried to set me straight, which resonated with me," he explained.
When Fernando became a barber, he wanted to prove how impactful how hard work and dedication could be, no matter what had happened in your past.
"That's why I came to Phoenix and wanted to make a difference. I wanted to show that you don't have to be perfect to end up in a good place."
This goal became a reality when one of his high school teachers walked into Fernando's barber shop when it first opened. The teacher told Fernando, 'I knew you had it in you.'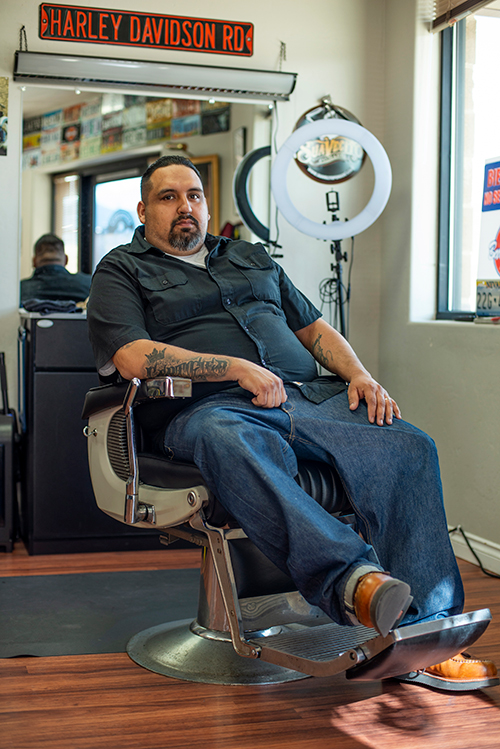 A business for the community
When the Almeda Fire tore through Phoenix and Talent in 2020, Fernando's barber shop was spared from the destruction.
"We have lots of police and firefighters who get their haircut at the shop. They gave me updates the day of the fire when they were evacuating people," said Fernando.
He recalled the day was a rollercoaster of emotions. The fire came close to the shop — even burning the plants in front of the building — but didn't touch the building itself.
When he opened Certified Barbershop, Fernando had a certain vision in mind. He wanted to create a modern barbershop with old school vibes. At his shop, they offer traditional men's haircuts, which includes everything from older style trims to modern skin fades and hot shaves.
Fernando also wanted to create an atmosphere that felt comfortable and familiar — a place where everyone knows your name.
Certified Barbershop has a strong sense of camaraderie, where everyone who walks in either knows each other or has run into each other around town. It's a place to relax and socialize, as much as it is somewhere to get a shave or a haircut.
It's also a family business. Fernando's nephew, who attended Phoenix High School, has been cutting hair there for three years. Francisco, another barber at the shop, is also a graduate of Phoenix High School and works at the barbershop.
A supportive community
While other barbershops have come and gone, Fernando has created a strong and lasting business, built on a foundation of service and fellowship. The Phoenix community has been very welcoming and supportive of his business.
"I wanted a place where everybody knew everybody," he said. "I felt like Phoenix and Talent lacked a shop like that. I wanted to provide a service that was more upscale than the average barbershop."
What began as a bunch of Phoenix boys trying to make an impact in the community has become a beloved local business which provides exceptional haircuts and top-notch service to its customers.
"The craft that we do is very detailed. I don't care how long it takes, as long as it's done with perfection and that the customer is happy," said Fernando. "It's been a really good experience for us here."