Supporting local businesses is an important part of every community. Because it's in these welcoming boutiques you not only find unique furniture, decor, clothes, and much more, but fun and friendly owners.
Gypsy Trader, which opened in 2013, specializes in furniture, clothing, jewelry, and home and garden decor. It provides a place for the people of Phoenix and the Rogue Valley to find creative pieces and enjoy a friendly shopping experience.
Pursuing creativity
Running a boutique had always been a dream that owner Terri Chavez wanted to make a reality.
"I was in the restaurant business my whole life, and I toyed around with the idea of my own shop. But I never made the leap," she said.
Prior to opening Gypsy Trader, Terri worked at a barbeque restaurant in Phoenix. But when she would travel to Portland, she'd see stores similar to what she imagined her own shop could be, and it reignited her desire to run a retail store.
"I was tired of the restaurant business and wanted to do something different. My family said I should just go for it. So I decided I would. And I'm glad I did."
When Terri was ready to take the plunge, she secured a location in Phoenix. That way, she could work at the shop during the day and maintain her restaurant job at night. However, the restaurant closed a couple weeks after she signed the lease for Gypsy Trader, and she became more determined than ever to make it work.
According to Terri, most of her customers in that first year were people from Phoenix. But through word of mouth, hard work and dedication, the store continues to do well nearly ten years later.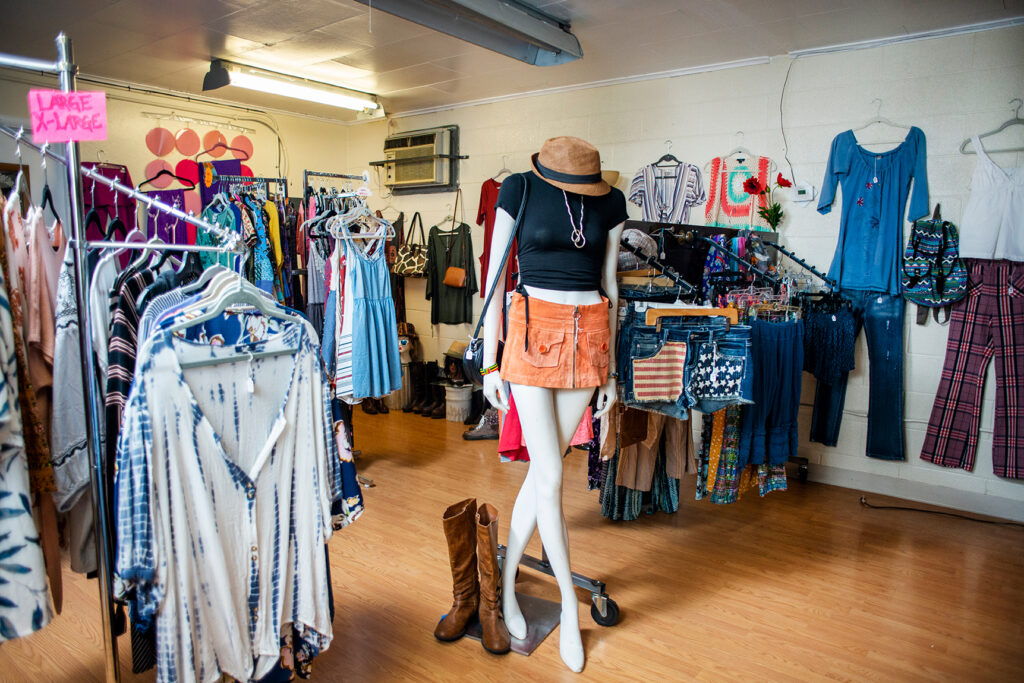 A unique shopping experience
Terri has always loved going to estate and garage sales to discover one-of-a-kind items. Today, her routine trips to these sales helps her keep her store stocked with unique pieces.
Gypsy Trader offers a variety of items, focusing mostly on clothes, furniture and home decor.
Terri's store also has a lot of smaller items, like tables, night stands, chairs and bistro sets. Or if customers want to decorate their outdoor areas, Gypsy Trader has plenty of patio and garden items in the spring and summer months.
For Terri, she is most proud of the atmosphere she has created at Gypsy Trader.
"I think customers are impressed by the space when they first walk in. People are surprised this type of store exists in Phoenix."
After living in Portland for about 17 years, and then in Reno, Nevada, Terri desired to return to Oregon. Not wanting to go back to Portland, she found Southern Oregon and has been here almost twenty years.
"I love the community in Phoenix," she said. "The people here look after each other."
Terri lost her house in the Almeda Fire, and for a few days, believed her store also burned down. But then she received a text about her shop, and learned it was still standing.
When Terri reopened Gypsy Trader after the fire, the response was amazing. She did the same amount of business in one day that she usually does in a week.
"Our community has come together so much," she said. "It's amazing to experience how we help and support one another."
Location & Hours:
113 W. 1st Street
Phoenix, OR
Tuesday & Wednesday, 11:30 a.m. – 6 p.m.
Friday, 12 p.m. – 6 p.m.
Saturday, 12:30 p.m. – 5:30 p.m.