The team at Agostyx, located in the Phoenix Industrial Studios, describes themselves as freelance chemists, specializing in the advancement of polysilazane technology.
Polysilazanes are a class of heat stable inorganic polymers that have excellent scratch, abrasion and impact resistance. But sometimes it's easiest to think of polysilazanes — and other chemicals — like a family.
"Everyone has heard of silicone, which is used in everything from spatulas to shampoos," said Luke Marin, Lead Chemist and Director of R&D at Agostyx. "Silicone and polysilazane are like brother polymers."
The bonds of friendship & work
Agostyx formed when Alex Lukacs, Chaz Brown, Luke Marin and Mike Leimas joined together to create their own company.
"We're kind of like mad scientists," said Luke. "We tinker, invent and make formulations and patentable ideas."
According to Luke, Agostyx has three main offerings: contract research and development, consulting, and intellectual property licensing.
"We don't make or sell anything; we focus on research and development," Luke explained. "We could invent something and patent it, or keep it a trade secret. Then we could license our creation for someone else to use."
But one of the pillars of the company is Alex, the Senior Science Advisor. He is a world-renowned expert in the chemistry and manufacturing of polysilazanes.
"Alex is like our wise wizard!" said Luke.
With over 37 years of experience in the field, Alex has devoted his career to the synthesis, modification and application of polysilazane polymers, and is recognized worldwide as an expert in polysilazane chemistry. His efforts inspired much of the initial work into the development and application of this family of inorganic polymers through his groundbreaking work in the 1980's and 1990's.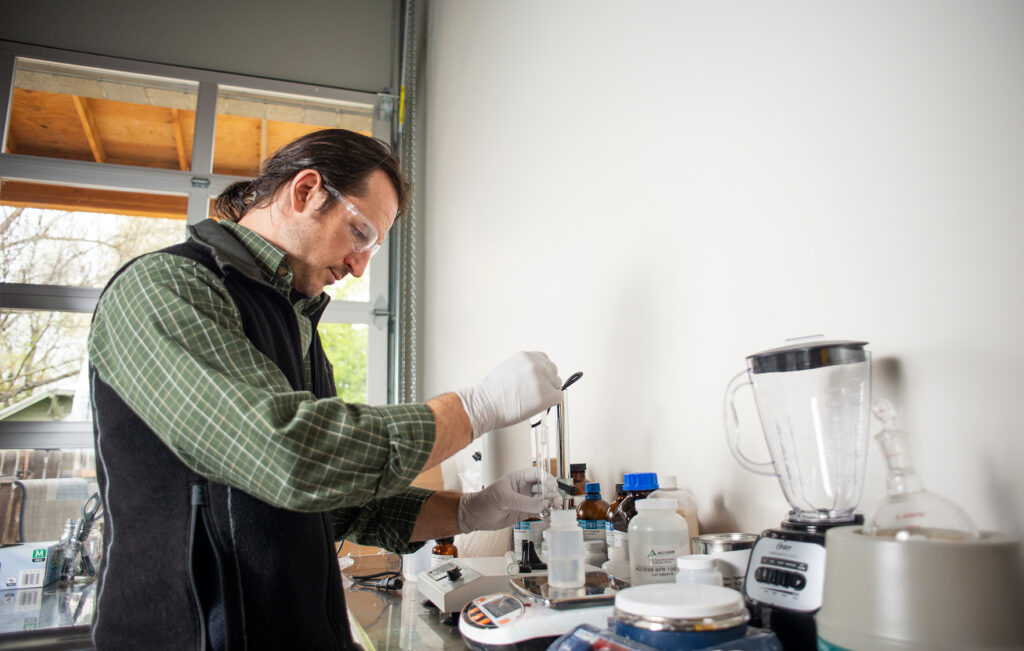 A formula for success
Here in the Rogue Valley, Agostyx opened in 2020 and works with a variety of clients — from companies in the aerospace industry to local face painters who want to create non-toxic paint.
"We started the company in my garage, and our business manager later found us this spot in Phoenix," said Luke. "We're really fortunate to have this place. We love Phoenix and our lab."
The team at Agostyx is bound together by their love of chemistry, which has been a core component of their success.
"We want to use our expertise to solve problems," said Luke.
According to Alex, one of the goals of Agostyx is to use their talents and abilities to make a difference in people's lives and in society.
"That's why we formed the team. We only think outside of the box. We strive to develop products that are new, totally innovative and never seen before," said Alex.
With that in mind, Agostyx also practices "green chemistry". They will not work with anything that is toxic or harmful to people or the planet.
"We are environmentally friendly chemists. We are picky about what we work with and recommend to people. Humankind and the planet are at the forefront of what we do," said Luke.
Finding community in Phoenix
But Luke and the team know that it's not often people come across a chemistry company, especially one nestled among an art gallery, pizza shop, bakery and ceramics studio.
"A lot of people look at our sign and wonder what we're doing in here," he said with a laugh. "But we want people to know they can approach us and learn about what we do."
Luke, Alex and the rest of the team at Agostyx are especially thankful for their space in the Phoenix Industrial Studios.
"We are surrounded by a neighborhood of businesses that know and help each other. The personal nature of our location is so rare, and it's very comfortable," said Luke. "We'll never leave. It helps us do our creative work."