July 26, 2023 | Rebecca Scott for Travel Phoenix Oregon
Don't let the name fool you. Small businesses are anything but small, because they make an enormous impact in the community.
Brother and sister duo Micah and Amanda Adams purchased Figaro's Pizza in July 2022, with a desire to play a positive role in the recovery and rebuilding process in Phoenix and Talent.
A family affair
Since taking ownership of the restaurant, Amanda and Micah have been blessed to connect with many community members.
"Phoenix is a beautiful town," said Amanda, who is the general manager of the restaurant. "I've gotten close to several people here who have become friends. It's humbling and means the world to me."
In addition to meeting many new people in the community, Amanda and Micah are proud to work alongside their dedicated staff.
"We are here to encourage and guide our employees," she said. "We love to watch them grow and blossom as people."
Born and raised in the Rogue Valley, Amanda and Micah are no strangers to hard work. Their father is a Marine and their mom worked as a CCU and ICU nurse at Asante.
"We're proud of our parents and what they accomplished," she said. "They shaped us into who we are today. Our parents taught us to give back, to be kind, to be responsible for our actions, and to help others," she said.
Amanda and Micah were also partially raised by their grandparents, who had a similar work ethic.
"My grandfather worked from sunup to sundown," she said.
Supporting the next generation
Amanda and Micah's desire to give back and help young people is one of the guiding principles of their business; they want to mentor, support and teach local students.
If a young person comes to work at Figaro's Pizza — whether it's their first job or not — Amanda and Micah teach them how to be responsible for their shifts and for the store, and how to navigate and think critically in a fast-paced environment.
"Our employees mean the world to us," she said. "I want this job to help prepare them for the future, and inspire them to achieve their goals."
From how they rave about their employees, it's easy to see the Adams' genuine appreciation and admiration of the young people they work with.
"One of our employees is top of his class and another is going to Mercy Flights and volunteering — at only 16 years old!"
As part of the cozy Phoenix community, Amanda and her brother have relished the opportunity to help the local schools and students. They have partnered with Phoenix High School for raffles, fundraisers, food donations, car washes and other events.
They have also collaborated with the local elementary school, which has led to even more fun innovations and ideas.
Amanda recalled a time when she delivered pizza for winners of a jog-a-thon at Phoenix Elementary School, and asked the office manager if they had considered rewarding the kids with something special outside of school.
That simple question led to the creation of "treasure tokens" that the children could redeem for pizza. The kids received the tokens when they completed certain tasks, such as finishing extra credit assignments.
"We love to see the kids excited to redeem their tokens. And the parents are absolutely beaming with pride."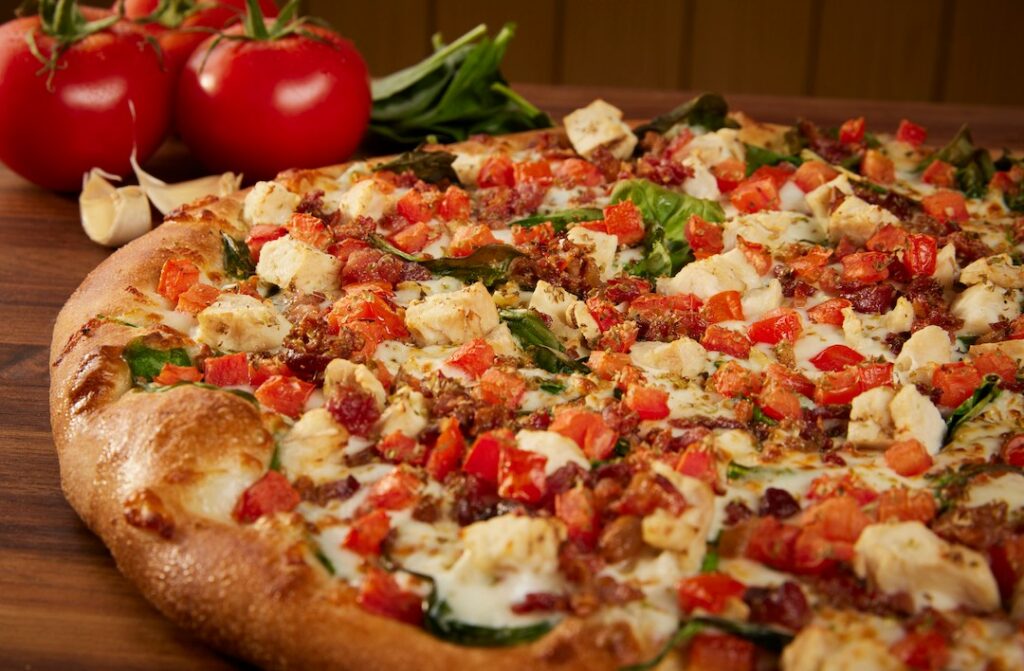 Where passion & experience collide
Before coming to Phoenix, the brother and sister team had a lot of restaurant experience under their collective belts.
Micah worked at the Jacksonville Inn for over 15 years, and was the restaurant manager for almost 13 years. After the restaurant was sold, he did some soul searching about his next steps.
"I woke up one day and thought it would be nice if I had my own place," he said.
Amanda also worked at the Jacksonville Inn for 5-6 years as a manager. When she and Micah decided to forge a unique path and own a business, their true vision emerged.
"We wanted to do something that would help the schools and local youth," she said. "Micah and I had been in 4-H growing up. Giving back to local 4-H groups is important to us, because it brings our lives full circle."
With such strong roots in the community and a desire to help others, the siblings' passion has not gone unnoticed.
Micah was recently dubbed one of Southern Oregon's Top Ten Emerging Leaders — a title that goes to those who have made a difference in the community. During the Emerging Leaders event, Micah launched a fundraiser that had the kids of the Hope House and 71Five draw on their blank pizza boxes.
"We used those boxes for our pizzas that went out into the community. This led up to our larger event, the Pizza and Wine Summer Fundraiser," she said.
The event benefited the Hope House and 71Five, to raise enough money for a local youth center in Shady Cove.
Delivering kindness
Businesses of all sizes have an opportunity to help their community, whether that's partnering with the schools, volunteering, or simply cheering on the kids at a local sports game.
"It's about getting out there and serving the community," she said.
When a business goes above and beyond — and does their best to help others — they are making an immeasurable and invaluable impact.
For Amanda, her experience in Phoenix has been eye-opening, as she didn't spend much time there or in Talent before purchasing Figaro's Pizza.
"It's not just two little towns between two cities," she said. "These communities are full of cheesemakers, bakers, winemakers, teachers who work day in and day out, moms and dads, veterans, and kids striving to improve their futures. They are full of people I now consider friends and who I know by name."
Photo Credit: Figaro's Pizza (Phoenix) Facebook page