May 1, 2023 | Rebecca Scott for Travel Phoenix Oregon
Local wineries come in all shapes and sizes — from European-style estates with rolling hills, to cozy tasting rooms suitable for wine tasting all year long.
Catalyst Wine Collective, a local urban tasting room and the headquarters of two local wineries, has bright wine tasting to the heart of Phoenix.
Wine lovers unite
Catalyst Wine Collective opened in April 2021 and was founded by three wineries — Goldback Wines, Sound & Vision Wine Co., and Ryan Rose Wines. However, since September 2022, it is now Goldback Wines and Sound & Vision Wine Co.
"All of us are owners and winemakers, which isn't typical," said Carmen Nydegger, who owns Sound & Vision Wine Co. with Joe Chepolis.
According to Carmen, both wineries offer small case production, are owner operated and self-funded.
The idea for Catalyst Wine Collective started when the winemakers pooled their resources together to get their products out into the public eye. Once they found a space to share in Phoenix, their dream became a reality.
"We were the first winery collective in Southern Oregon and the only tasting room in Phoenix," she said.
Two paths become one
Before building Catalyst Wine Collective, Goldback Wines and Sound & Vision Wine Co. had their own unique journeys.
Goldback Wines launched in 2016, a dream Andy Myer worked toward for 14 years. Before settling in Ashland and starting Goldback, Andy worked in wine regions across the world and learned skills from the masters of the trade. Andy's clean, careful approach to winemaking favors minimalism. He picks the fruit on the earlier side to maintain natural acidity.
The initial focus for Goldback's wines is on Rhône varieties grown from two sustainably farmed sites in the southeastern area of the Rogue Valley. Goldback offers a few different wines, including Grenache and Syrah, among others.
Sound & Vision Wine Co. started in 2018, with a goal to let nature, the vineyard and the vintage bring forth the unique voice of the wine.
Co-owners Joe and Carmen built Sound & Vision with a specific thought in mind: to source or farm fruit from the most distinctive vineyards in the Rogue Valley and let them shine.
Sound & Vision Wine Co. offers a little bit of everything, and visitors could expect to indulge in Reisling, Vermentino, Barbera, Merlot and Zinfandel.
Like many business ventures, the pandemic completely changed the course these wineries were on and expedited the idea of building a tasting room.
"Even when the pandemic hit, many brick and mortar wineries were good because they had followers and wine clubs, and could do pickups and deliveries," said Carmen. "But we didn't have that at the time and we wondered how we'd get our wines out."
That led to the creation of Catalyst Wine Collective at Phoenix Industrial Studios.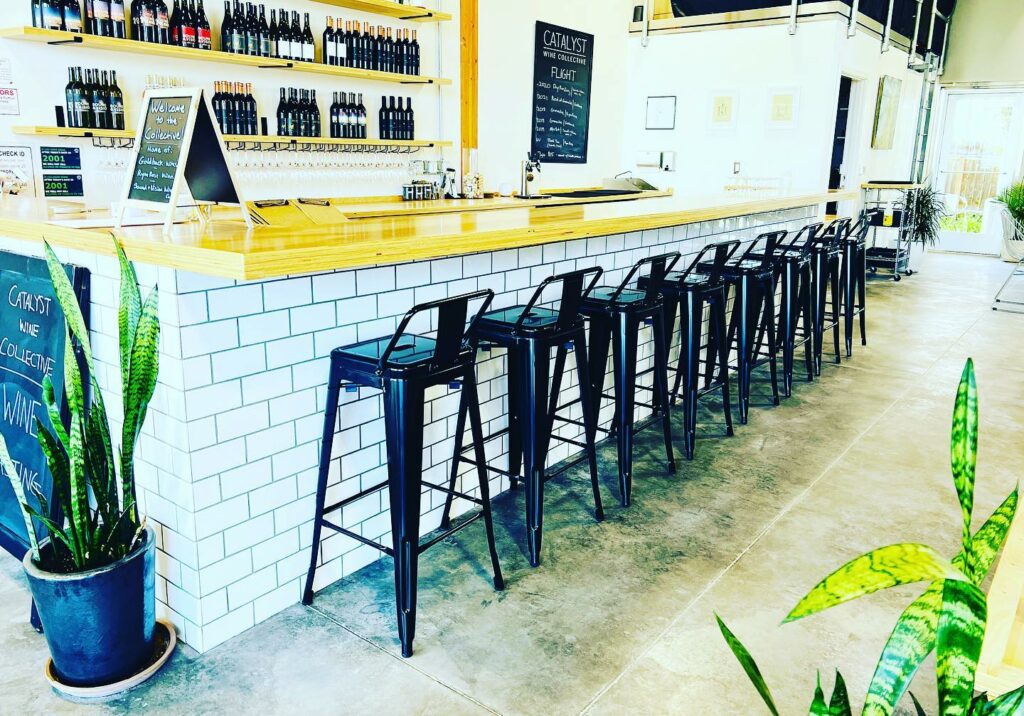 Small, local & loving it
Both wineries are proud to use the most natural winemaking processes possible.
"Sound & Vision's wines use native yeasts," said Carmen, "which means we don't add yeast to strengthen fermentation. Yeast exists on the grapes, and we follow what the vineyard is telling us. We try not to add or subtract anything from the wines."
At the tasting room, customers can partake in a flight which includes six wines — three each from Sound & Vision and Goldback.
They took inspiration from urban tasting rooms in Sonoma and wanted to keep theirs modern, clean, bright and airy. The space at Phoenix Industrial Studios was a perfect fit for what they envisioned, as it had natural elements, but also felt warm and welcoming.
Catalyst Wine Collective is proud to be a small, local tasting room that's connected to their visitors.
"When someone comes in and buys or tries our wines, they're directly contributing to keeping our doors open," said Carmen.
In addition to representing wine varietals not often seen in the Rogue Valley, such as a Chenin blanc or Vermentino, Catalyst Wine Collective also shows what a clean and minimalist winemaking process yields. The flavors are fresh, unique and a reflection of the land.
Even with opening shortly after the pandemic and the Almeda fire, Catalyst Wine Collective is grateful for their roller coaster ride of an experience.
"Phoenix has been extremely supportive," said Carmen. "It's taken a while for people to realize the tasting room is here, but it's becoming a more well-known spot in the Rogue Valley."
Photo Credit: Catalyst Wine Collective Facebook page