May 8, 2023 | Rebecca Scott for Travel Phoenix Oregon
The food you consume should fuel you and provide you with the energy and enthusiasm to embrace each new day. But it's also important to know where your food comes from, how it's grown and its impact on the environment.
Rising Sun Farms in Phoenix believes in delivering the best tasting products, while using the best and cleanest ingredients with a minimal impact on the planet.
Global inspiration
For more than 40 years, Rising Sun Farms has been making all-natural specialty foods, including cream cheese tortas, pestos and more. They have earned national acclaim, with over 100 awards for product excellence.
But as one of the first organic farms in Oregon, it has been a fascinating trip for Rising Sun Farms and owner Elizabeth Fujas.
After graduating from college and working in corporate America for seven years, Elizabeth wanted a change and decided to travel the world.
"I thought there was more to life than a good job in the city," she said.
In 1976, Elizabeth started working as a chef on ocean racing yachts. She traveled to ports throughout the world, shopped at fresh markets and learned about new and exotic ingredients.
The yacht racers appreciated her cooking, especially the fresh ingredients and herbs, because it wasn't something they usually ate while sailing. As word of her culinary creations traveled, Elizabeth began making and selling gallons of pesto sauces to other yachts.
"In 1980, I met my husband Richard, a ship captain in the West Indies," she said, "and we sailed around the world."
But as their family grew, they desired to put down roots.
Their search for a new home brought them to a beautiful farm overlooking the Cascade Mountains. The land offered opportunities and challenges, but nothing that Elizabeth and her family couldn't handle.
Neither Elizabeth nor Richard had farming experience, but through a lot of reading and research, they learned more about their new home and the land. They soon discovered the hot and dry climate was perfect for growing herbs.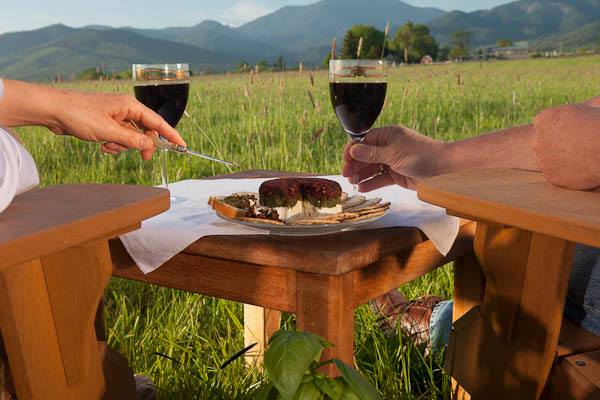 The adventure begins
For Elizabeth, her culinary mission was clear from the start.
"I wanted to provide healthy food using the best quality ingredients while supporting organic and sustainable agriculture," she said.
But what brought her to realize this mission to create healthy and sustainable food?
In the early 1980s, there was a lack of organic foods, especially organically-grown herbs and specialty herb products. Also, there was an increase in chemicals being used in farming.
"There was no way we would put poison on our food," she said. Thus, their journey to craft delicious and organically-grown products began.
Rising Sun Farms manufactured their first pesto sauces in 1984, and customers clamored for more. So much so, that the farm had to add more equipment and employees.
In 1991, they moved to a new farm in Phoenix. They underwent another expansion in 2000, with the addition of 12,000 square feet of manufacturing and warehouse space. Rising Sun Farms now has a 25,000 square foot facility and warehouse, and sells over 25 unique products. Additionally, they have been SQF Certified since 2013.
Elizabeth and Richard are grateful for decades of success, but know it wouldn't be possible without the hard work of their employees, some of whom have been with them for 25 years.
A business built on strong values
With a strong connection to the land and to people, Rising Sun Farms has built a decades-long legacy of creating natural and organic foods. And they are ready to tackle whatever the future holds.
While Rising Sun Farms is not open to the public, you could find their delicious goods at several local stores, including Shop'n Kart, Sherm's Thunderbird, the Phoenix Farmers Market and Harry and David.
"We started as a family affair," said Elizabeth. "We are still one big family, and as committed as ever to making flavorful and wholesome foods."
Photo Credit: Rising Sun Farms Facebook page