Many people love to start their day with a hot cup of coffee. Brenda Georgeson, a longtime resident of Phoenix and the Rogue Valley, desired to open her own coffee stand and bring this beloved beverage to friends, neighbors and the community.
Brenda's journey into entrepreneurship hasn't been easy, but support from friends, family and the community helped bring Kraken Koffee to life.
Forging a new path
Brenda has resided in Phoenix for 34 years, and lives with her daughter and three adorable Chow Chow puppies.
"It's my community and I love the people," she said.
Brenda started her coffee venture in 2017, but at the time, she decided to get her daughter through high school first and then do some mother-daughter traveling. She began work on the original coffee stand in January 2020, and in September, was ready to hold her grand opening.
"A week before we opened, the Almeda Fire took the stand," she said.
But this did not deter Brenda from her dreams or goals. A couple weeks after the fire she found a gutted out shed and got to work.
"I knew I could work with that shed. I built the coffee stand from the inside out and finished it only three months after the fire."
During that time, Brenda faced challenges head-on and learned about plumbing, electrical, flooring and many other skills to get her coffee stand built.
However, Brenda faced other problems, which included the city only allowing drive-thrus in dedicated zones. She found one of these zones, but additional costs were yet another hurdle.
"This hurt me more than losing anything in the fire. After all that hard work, a door which was open before the fire was suddenly slammed in my face," she said.
Without the funds to create a drive-thru, Brenda pivoted yet again to create a walk-up coffee stand. Kraken Koffee officially opened on November 1, 2021.
After losing everything in the fire, rebuilding, creating a new stand, and overcoming other challenges, Kraken Koffee was welcomed into the Phoenix community and the Rogue Valley with open arms. Even in such a short time, it has become a favorite place for locals to get their coffee fix.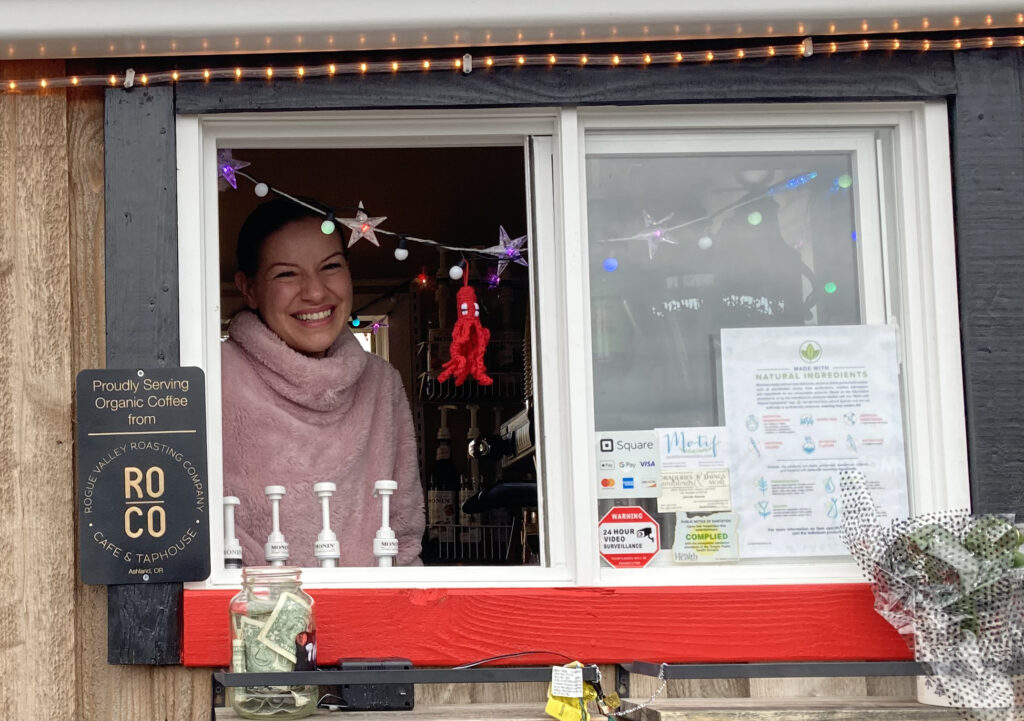 Bold and delicious coffee
Kraken Koffee serves 100% organic espresso, locally roasted from Rogue Valley Roasting Co. in Ashland. Their hand-blended drinks use homemade Creme Chantilly (similar to whipped cream), and Monin syrups.
Brenda is also proud of how her coffee is prepared. "I don't use an automatic espresso machine or grinder. Everything is done the old-fashioned way and treated like an art," she explained.
Also, their coffee is perfectly balanced with a rich, full-bodied flavor. Customers enjoy a unique experience where they can actually taste the coffee, and it's not masked by anything else.
"But my secret ingredient, as my grandmother would say, is love."
Kraken Koffee has numerous offerings, including butterfly pea flower matcha, golden turmeric milk, salted caramel, an immunity booster extract, an energy booster extract and much more. Additionally, all the milks they use are organic. With a total of 55 flavors, there's something everyone will love.
Kraken Koffee also has plans for the future, and hopes to serve organic paninis and soup for lunch. Brenda wants to eventually turn the spot into an organic food court/outdoor cafe.
Bringing a dream to life
Throughout Kraken Koffee's journey, the community has been very supportive and excited to have a new coffee stand in Phoenix.
When deciding where to open her business, for Brenda, there was nowhere else she would rather be.
"I've lived in Phoenix for 34 years. I love it here more than anywhere else."
Brenda is also thankful to everyone for their support of her walk-up coffee stand.
"Thank you so much for your willingness to get out of your cars for coffee — even during the wind, rain and snow. I can't express how much that means to me. You, my friends, are amazing!"