Family-owned and operated businesses bring immense value to the community. And while Perfect Measuring Tape Company may be new to the Rogue Valley, they have been focused on making high quality, accurate and affordable measuring tools for over 100 years.
Measuring in decades
"Our company was founded in Toledo, Ohio by my great-grandfather in 1912," said CEO Barrett Bohnengel. "He built machines that made paper measuring tape. They are the size of a full-sized pickup truck and weigh twice as much."
However, while paper measuring tape is still used throughout the world to measure textiles and other rolled goods, it currently represents a small part of the business.
"For the last 40 years we have been manufacturing specialty measuring tools for a variety of industries — including health and fitness, construction, industrial, scientific and textiles."
According to Barrett, much of their business is with "makers" — such as other businesses — in addition federal and state governments. But over the last decade they have been rapidly expanding their consumer retail channels. This allows customers to find their products at many large online retailers.
Additionally, there is incredible diversity in the world of measuring tools. Nearly every industry uses some type of measuring tool. In most cases, there are several ways to measure something, and multiple measurements of interest. This large amount of measuring activity creates the possibility for measuring errors. In many cases, these errors may be very costly.
"This has always been the need underlying our company's existence — we are here to help industries minimize their errors and maximize their productivity," said Barrett.
To help with this, Perfect Measuring Tape Company offers high quality, accurate measuring tools that are specially catered to the customer's situation.
"We love learning about the many ways measuring tools are used in this world, and we pride ourselves on listening and innovating around our customers' needs."
The story of a family business
Before arriving in the Rogue Valley, Barrett grew up in Ohio and worked at Perfect Measuring Tape Company as a teenager.
"Initially I did the typical factory grunt work — unloading and stacking 1,000 pound rolls of paper, packing and shipping orders, assembling tapes, and scrubbing down printing machines at the end of the week."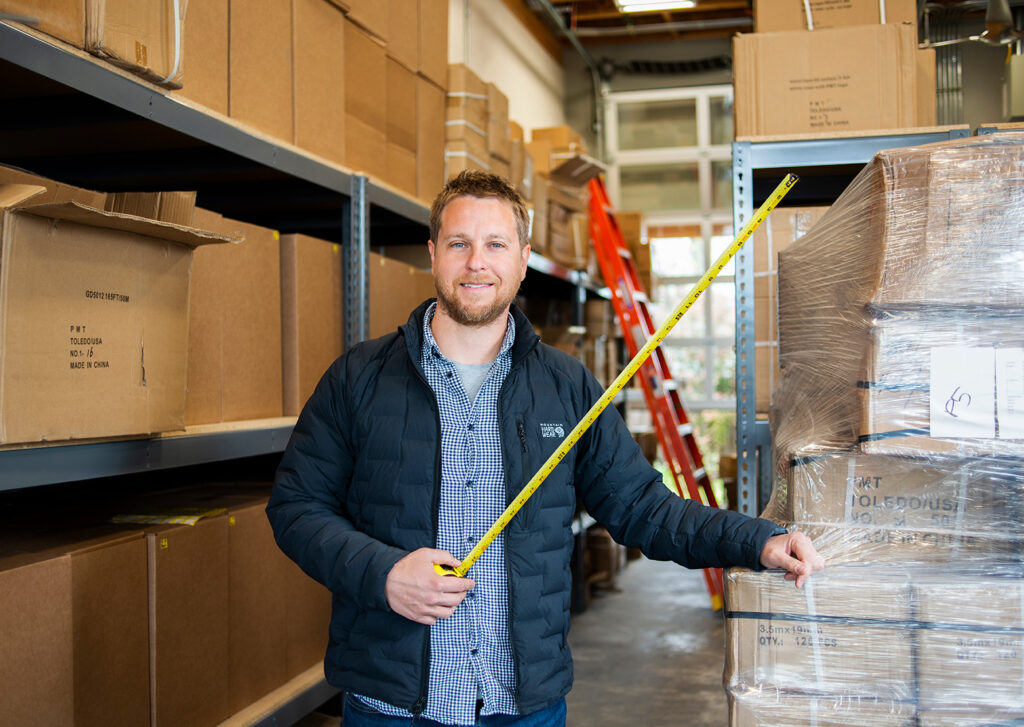 From there, Barrett worked in product development, and then moved into sales and business development. In 2017, he took over management and ownership of the business.
Barrett's family has lived in Oregon for over 15 years.
"We relocated to the Rogue Valley in 2021 in search of a smaller community and great schools for our two boys," he explained.
Phoenix made a lot of sense for the business due to its proximity to I-5 and the international ports in California where they do the bulk of their international shipping.
Barrett arrived in the area during the wake of the Almeda fire, but was inspired by the strength and resilience of the community in rebuilding and recovering from the fire's devastation.
"After meeting Paul Kay at Phoenix Industrial Studios, and all of our neighboring businesses, we were sure Phoenix was the place for us," said Barrett.
"We love the camaraderie among the businesses at Phoenix Industrial Studios. There is a great diversity of work and talent here, and it offers many opportunities to collaborate and cooperate. It's also just a fun environment!"
Planting roots in Phoenix
For Barrett, bringing the business to Phoenix has been a positive experience.
Perfect Measuring Tape Company has always prided itself on building long-term relationships with customers through specially catered manufacturing solutions, honesty and constant communication.
"We succeed when our customers succeed," he said.
Looking toward the future, the company is launching new products to make measuring easier and faster, and striving to make more of their products in the United States.
Barrett also invites people to visit their Phoenix location.
"We are always happy to talk 'measuring' with you! With the opening of our Phoenix office, there are more tape measures in Jackson County than any other county in Oregon. Phoenix is the measuring capital of Oregon!"