February 21, 2023 | Rebecca Scott for Travel Phoenix Oregon
Residing in the shop which previously housed The Oregon Cheese Cave, this local boutique has an intriguing je ne sais quoi which keeps customers coming back to discover new and different items.
An eye for design
Owned and operated by Marisa Youlden, a passion for art, beauty and design are on full display at Studio MYJ NEED WANTS in Phoenix. The store has a variety of items and showcases everything Marisa loves to do.
"I make jewelry, offer fashion styling, create hand poured candles, and also sell vintage and antique home decor," said Marisa.
Like a true treasurer hunter, Marisa sources her decor items from other places, ensuring everything in the shop has a unique flair and story.
When Marisa decided to open her store, she looked for a space in Talent, but nothing was available. Then, something else caught her eye.
"Every time I drove by The Oregon Cheese Cave, I fell in love with its design. When the building became available, I jumped on it," she explained. "Now I'm in Phoenix and I love it!"
Marisa opened her store the day of Phoenix's Christmas tree lighting and held a small grand opening party. Gradually, she met the locals who wanted to know what the new store was and what it offered.
Studio MYJ NEED WANTS is petite, but full of special and exciting items. Marisa believes it's a great place to find a gift because every piece is handpicked and unique.
"I keep the prices very reasonable because I want people to have a shopping experience in their town that's approachable and easy," she said. "It was a cheese cave, and now it's a treasure cave!"
Marisa also has her art studio at the shop, where she's often found working on something fun and creative.
In addition to running her store, Marisa keeps her business active on social media. She started a YouTube channel which shows what items are in the store and who made them. Marisa also plans to post videos that educate viewers on candle and jewelry making.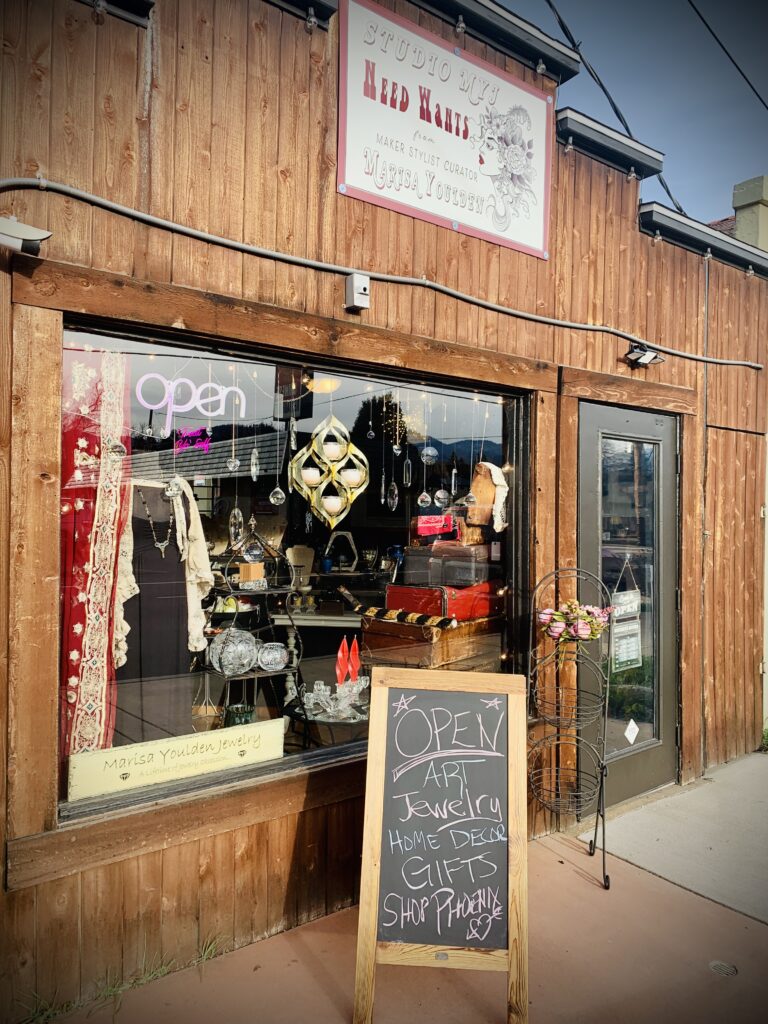 A lifelong love of art & design
Long before opening her store, Marisa had a passion for design. Her mother was also a jewelry designer, and Marisa followed a similar path.
"I started making jewelry at nine years old," she said.
Before arriving in Southern Oregon, Marisa lived in Los Angeles and designed jewelry for musicians, LA Fashion Week and different runway shows.
Marisa's reputation for her top tier work led to a successful career. While living in Los Angeles, designers often approached Marisa and requested she craft their jewelry.
"I had a great time there but I didn't love living in Los Angeles. One day I decided it was time to leave."
She arrived in Southern Oregon and lived in Ashland for about ten years, and then moved to Talent. Marisa has enjoyed her time in the Rogue Valley and is looking forward to supporting the community through her business.
"I never thought I'd open a shop in Phoenix, but here I am! I'm excited to be part of the town's rebirth after the fire," she said.