Spring is a time of new beginnings. So it's only fitting that Deanna Mulaskey, owner of Bee Sweet Blooms in Phoenix, commemorates her business' first anniversary and reminisces about her journey as a small business owner.
Reaching a Milestone
Deanna's first year in business has been a wonderful, memorable and positive experience.
"It was scary to take a risk like this, but it's gotten busier every day and a lot of local people are finding the store," she said.
According to Deanna, more people are exploring Phoenix and curious about its small businesses. Over the past year, she has had more new people visit Bee Sweet Blooms, but she also has numerous customers that stop in on a regular basis.
However, similar to other businesses, Deanna has endured some challenges as well, including issues with supplies.
"Sometimes I'd place an order with one of my suppliers and then get half of what I needed," she explained. "I wouldn't know what I'd get until the shipment arrived. It made it hard to plan ahead."
So when supply chain issues caused unpredictability, Deanna pivoted and focused on creative solutions. She always planned to incorporate upcycling into her business model, so what started as a challenge became an opportunity. It also showed her how help could come from the most unexpected places.
"People have brought me vases to reuse," she said. "One woman knew someone who had a bunch of vases and she brought them in. She's like my vase angel."
But even amidst the ups and downs of entrepreneurship, Deanna cherishes every interaction with her customers and the community.
"The reason you buy flowers is because you feel something; there's always an underlying emotion," she explained.
"People come in for a variety of reasons. Sometimes it's a celebration, other times it's a sympathy bouquet after a loss. But I'm here to listen and make beautiful flower arrangements for everyone."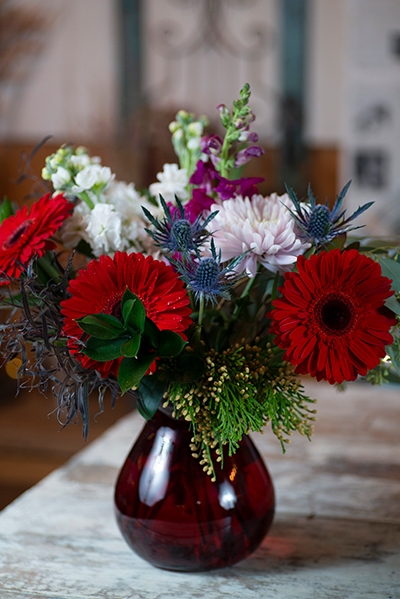 Looking to the Future
To mark Bee Sweet Blooms' one-year anniversary, Deanna is hosting an open house on Saturday, April 30th from 10 a.m. – 5 p.m. She will offer May Day flowers for people to give away, in addition to a 10% discount on any pre-orders for Mother's Day flowers.
As Deanna celebrates her business' one-year anniversary, she is excited for what the future holds for Bee Sweet Blooms and Phoenix.
"I think it'd be nice to host events at the shop," she said. "I'd love to add more classes. It's really fun and people like it, and I love hosting them."
Deanna has also noticed that people are supporting local businesses in Phoenix and throughout Southern Oregon more than ever before. Compared to last year, she has seen more foot traffic along Phoenix's main street.
"A year ago, there were days when no one came in, which was scary. But it seems like there's more people on the street exploring, and that foot traffic has gone up."
But throughout the past year — including the happiest times and on the most challenging days — Deanna is incredibly grateful.
"The people of this community are amazing. They are loyal and supportive, and have helped me in a million different ways. I feel the love from this community. It's inspired me to keep going and make this dream a reality," she said.