January 27, 2023 | Rebecca Scott for Travel Phoenix Oregon
As Phoenix continues to grow, the town welcomes more new and exciting businesses into the community. Each business offers a unique experience, whether that is retail shopping, handcrafted goods, flower arrangements or dining.
Charm Thai Kitchen, which opened in June 2022, has brought a true Thai experience to the heart of Phoenix. In less than a year, they created a following of loyal customers and left a positive impression on food fanatics throughout Southern Oregon.
Authentic Thai flavors in Phoenix
According to Rucharit Dechyarit — who goes by Bon — he and Charm Thai Kitchen's co-owner, Daeng, worked together in the Los Angeles restaurant industry for ten years. Then three years ago, they moved out of California and arrived in Oregon.
Daeng, who is from an area near Bangkok, brought his own recipes, ideas and regional food to Phoenix when he and Bon opened Charm Thai Kitchen.
"We serve good quality Thai food that's delicious and unique from what you'll find at other restaurants," said Bon.
Prior to opening the restaurant, Bon used to work at Vim Thai in Medford, as well as restaurants in Los Angeles.
Now a part of the Southern Oregon community, Bon has brought his expertise and love of Thai food to Phoenix and the surrounding cities.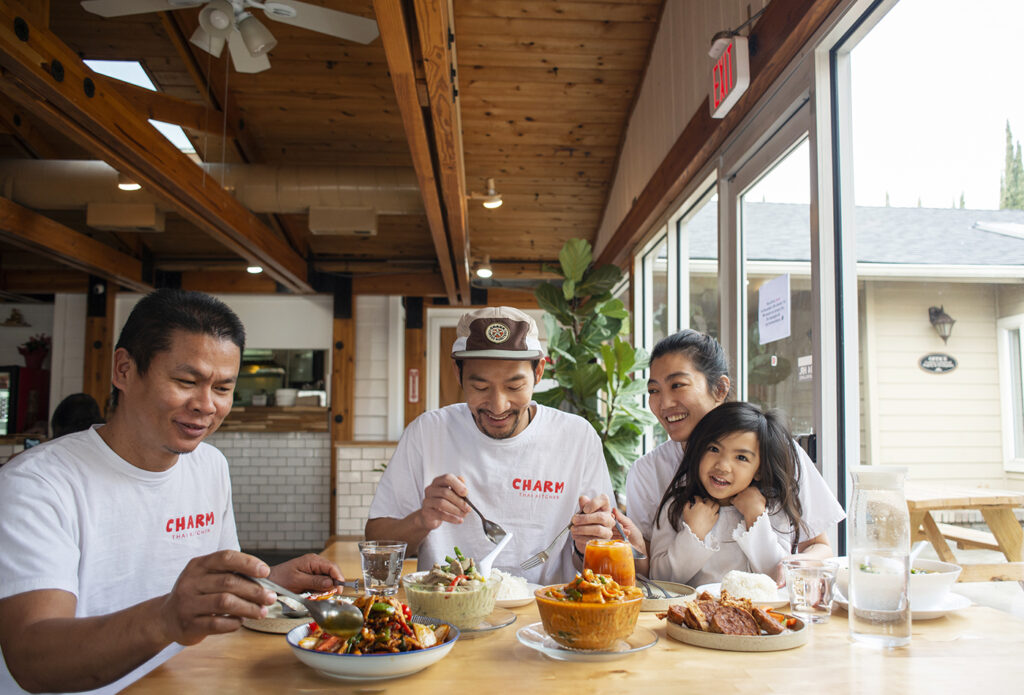 Finding & creating community
Bon and Daeng desired to create a culinary experience which gave diners a different perspective on Thai food.
"We have classic Thai food like pad thai and coconut soup, and also offer unique dishes at our restaurant," said Bon.
You will also find delicious food such as chicken satay, pot stickers, tom yum soup, curry and much more on the menu.
Having been open for about seven months, Bon is happy to have a restaurant located in Phoenix and enjoys living in the Rogue Valley.
"It is much better and less stressful to live here and run a restaurant here," said Bon. "Things are slower and we're closer to nature. I have a young daughter and this is a good place to raise a family."
Additionally, the community has rallied around and supported the growing restaurant.
"We have had really good support from the local people. Customers came from Phoenix and also Talent, Ashland and Medford, and spread the news about us."
Many people have shown their support for Charm Thai Kitchen, as well as for the owners and their vision of Thai cuisine. This allows the business to flourish and bring beautiful flavors and food to the Rogue Valley.
"People are happy we are here. It's great and I really appreciate them."
Hours & Location:
205 N Phoenix Road, Suite E 1
Phoenix, OR 97535
11 a.m. – 3 p.m. and 4:30 p.m. – 8:30 p.m.
Monday – Saturday