The community takes pride in and supports its small businesses. These stores provide gathering places for families, a place for locals to take out-of-town guests, and somewhere to chat with friends and neighbors.
Harper's Ice Cream Co. (721 Main Street I9) is a new addition to Phoenix, but it has already become a well-loved hangout spot for ice cream lovers of all ages.
Sweet beginnings
The initial seed for Harper's Ice Cream Co. was planted when Doug and Karen Harper's granddaughter was born about four years ago.
"We visited family in Hawaii and I tried these amazing frozen desserts," said Doug. "The flavors blew me away because I'd never tasted anything like them before. That's when I knew I wanted to learn how to make these desserts."
And that's exactly what he did. Over the past four years, Doug delved deep into the science of making ice cream, custard and gelato. His family, friends and co-workers happily tried his test batches as he honed his skills.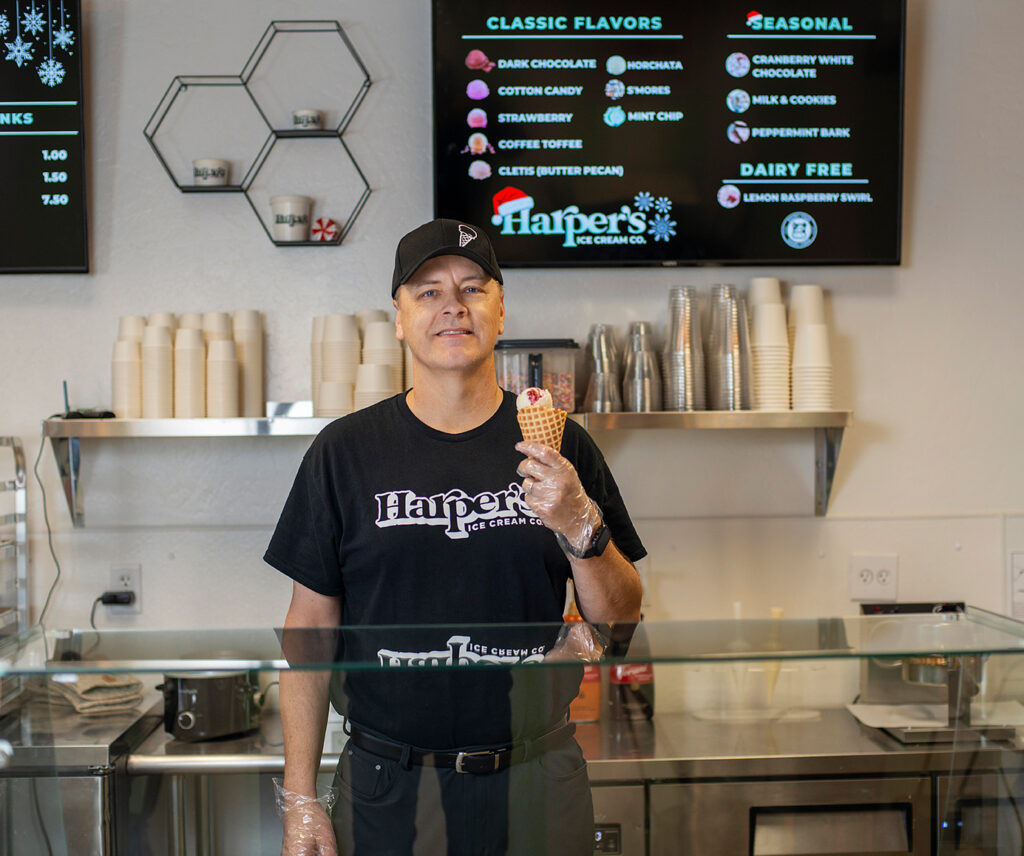 Prior to opening Harper's Ice Cream Co., Doug worked in physical therapy for 35 years and Karen still works as a nurse at Asante. But after having such an enlightening food experience in Hawaii, Doug wanted to pursue his new passion.
"I knew if I didn't try this, I'd always regret it. And during the pandemic, it was difficult to watch so many people suffer. It was time for a change," he said.
Pursuing a passion
Doug and Karen purchased the former Sweet Cream Ice Cream from its previous owners, who wanted to sell. After taking over the business, Doug and Karen offered mobile catering for events and sold ice cream at the local farmers market.
"We quickly realized we needed a brick and mortar to take our business to the next level," said Doug. They wanted a place where people could gather, and where Doug could experiment with flavors and new products.
Doug and Karen looked at possible locations in Medford, but Phoenix really resonated with them.
"It reminded me of where I grew up, and the area felt small and intimate," he said.
Doug also felt a strong bond with Phoenix, as his hometown also endured a similar catastrophe caused by a fire.
Once they opened the store, Doug worked on new recipes and flavors. There are flavors everyone will enjoy, as there are choices ranging from a dairy free lemon raspberry, to horchata ice cream and s'mores.
Doug and Karen also wanted to create a memorable atmosphere. They wanted all the sights, sounds and smells to come together in a fantastic experience for the senses — a place where modern met whimsical.
He also wanted to build a place where people could venture out of their comfort zones. Sometimes, Doug asks customers what flavors they like, and then suggests a totally different flavor. Generally, people are receptive to trying something new.
"I want to help people try new things and expand their horizons," he said. "That's what I like to do. Even if they don't choose a different flavor, they have a new experience."
Finding community and support
For Doug and Karen, their experience building a business in Phoenix has been incredible.
"The customers and the people who run the city have been so helpful," he said. "The people of Phoenix have let us know they love our store."
"It's important they understand how much we appreciate their support. The business is me and my wife, so when people are so kind and giving, it's truly humbling."
One of Doug and Karen's main goals with Harper's Ice Cream Co. was to create something the entire community felt like they had ownership of.
"I want Phoenix to feel like Harper's belongs to them too. It's part of their community."