June 21, 2023 | Rebecca Scott for Travel Phoenix Oregon
During times of peace, we forget about war. But the men and women who protected us here and on foreign shores — who fought in violent battles, witnessed horrific tragedies, saved lives and restored freedoms — never forget.
Through organizations like Best Defense Foundation, veterans are remembered and honored at home and abroad.
Doug Harper of Harper's Ice Cream Co. in Phoenix volunteers with Best Defense Foundation. Through that organization, he met an amazing veteran, Cletis Bailey.
When you visit Harper's, you'll notice the butter pecan ice cream is named after Cletis. This was done intentionally not only because it's Cletis' favorite flavor, but as a way for Doug to honor him and other veterans.
Meeting a hero
Cletis, who will be 98 years old in November, is a military veteran and an active man with few limitations. He cooks, cleans, shops and drives, and only uses a cane on occasion.
"He's kind-hearted and a true gentleman," said Doug.
Doug met Cletis through one of Best Defense Foundation's programs that pairs volunteers with veterans.
"I volunteered as a chaperone during one of the trips and stayed with Cletis the whole time," Doug recalled. "Since our trip last year, we talk to each other several times a month."
Doug cherishes each moment he spends with Cletis, because he knows that one day, Cletis and veterans like him won't be around anymore.
"That makes it even more important to give these men our time and respect."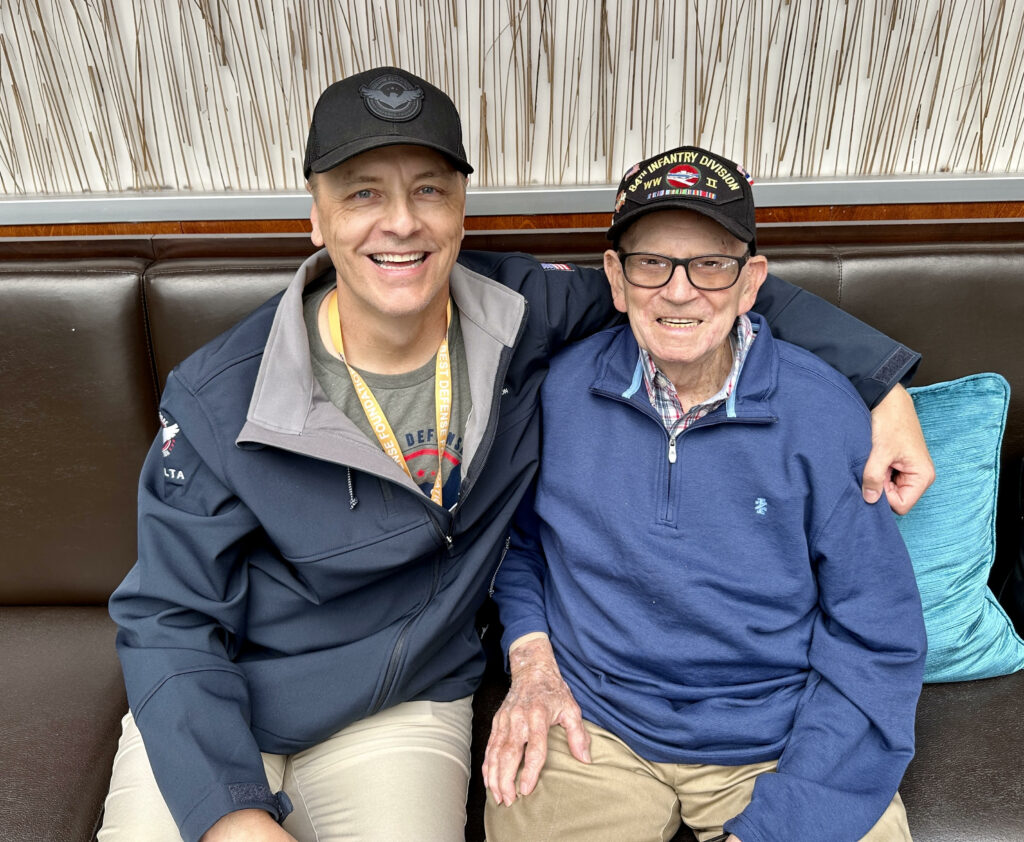 A veteran's story
Cletis was born and raised in Bradley County, Tennessee and resides in the McDonald community.
He graduated from Bradley Central High School and was drafted into the U.S. Army. He served two years in the 84th Infantry Division, 333 Regiment K Company, 4th Platoon during World War II. He served in action in Germany, which included the Battle of the Bulge.
Cletis was a Corporal E5. He received many honors, including Combat Infantry, Good Conduct, a WWII Victory Medal, the National Defense Service Award, and many others.
After the war, Cletis remained in the army under Active Reserves for almost three years. He attended the National School of Business under the GI Bill and received his junior accounting certificate. Shortly after, he enlisted in the United States Air Force. During this time he achieved the rank of Master Sergeant. Cletis also served in Vietnam.
After his retirement from the United States Air Force, Cletis enrolled at Cleveland State Community College and earned an associate degree in applied science. He worked
in the Administrative Services Department for 15 years.
Cletis met his first love, Joyce, while stationed in England. He and Joyce were happily married for 37 years and had six children — three girls and three boys. However, two of the infant girls passed away shortly after birth. Years later, Joyce died due to complications from lupus.
Years later, Cletis married his second love, Mary Beene. They were together for 13 wonderful years. She later passed away from kidney disease.
Each year, Cletis visits Lee Cemetery in McDonald on Veteran's Day, and places flags on the graves of fallen military comrades. He keeps a list of the veterans buried there, so no soldier is forgotten. He also visits seniors in the community who are invalid and offers them support and encouragement. Cletis loves life and shares his joy with as many people as possible.
A life-changing experience
Recently, Best Defense Foundation brought a group of World War II veterans — ranging in age from 70 to 100 years old — back to Normandy.
Mind-boggling, humbling and tear-inducing don't begin to describe the experience, according to Doug.
"It impacted so many people — the veterans, the volunteers and the people living in Normandy."
On the 79th anniversary of D-Day, the veterans landed in Normandy, and thousands of people celebrated their arrival.
"You hear people shouting 'Thank you for our freedom!'" said Doug. "They're sobbing because these veterans helped liberate France."
The veterans also visited local elementary schools. Prior to their arrival, the children studied the war and the veterans. The students also created a large map with a picture of each veteran and where they lived.
The young students exhibited incredible gratitude for the veterans who helped save their country from tyranny almost 80 years ago.
The enormous amount of respect from the people in Normandy — which spans several generations — was humbling. It showed that even when humankind was at its worst during wartime, that love, respect and compassion endured.
Honoring & remembering the brave
The realities of war are complex and do not fit into a neat and tidy box. It is bloodshed, death and trauma, but also a bond that crosses countries, nationalities, ethnicities and generations.
"I am anti-war, but always pro-military," said Doug.
As these warriors slowly pass on, their legacy will live forever. It's etched in memorials across the world, in the memories of relatives, and in history books.
Veterans fought for our freedoms and it's a sacrifice which bonds us all. It's how a nearly 100-year-old veteran who fought in the Battle of the Bulge, and currently resides in Tennessee, could have an ice cream flavor named after him in Southern Oregon.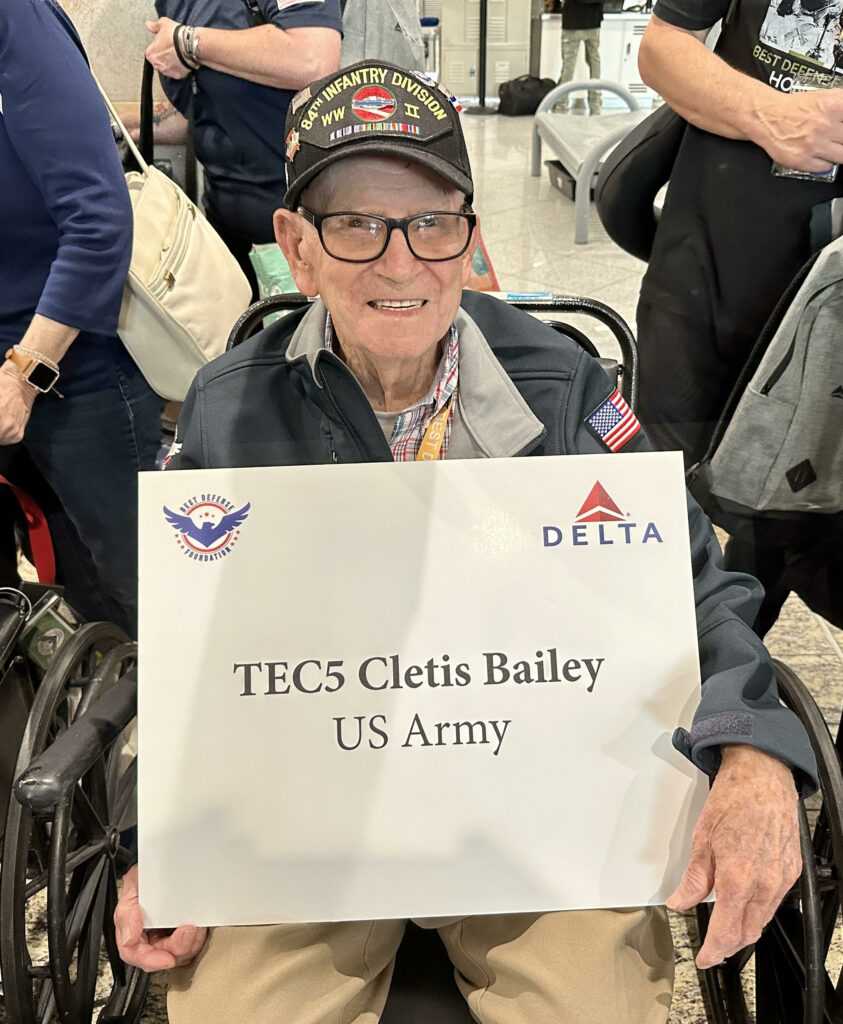 Photo Credit: Doug Harper