September 5, 2023 | Rebecca Scott for Travel Phoenix Oregon
Pollinators are a vital part of the ecosystem, as they facilitate the reproduction of flowering plants by transferring pollen, and enable the production of fruits, seeds and diverse plant life.
Since 2015, Cascade Girl in Phoenix has educated the community about how to create a healthy environment for these beloved pollinators, and build a harmonious balance between insects, flowers, landscapes and people.
Learning about the land
Cascade Girl is a local non-profit that uses applied environmental science education to increase appreciation for, and awareness of, bees and other pollinators, according to Sharon Schmidt, founder and director of the organization.
As the environment and climate changes, Cascade Girl's work becomes even more important.
"Most of us who grew up in the 70s and 80s were already alarmed about the number of pesticides being used," said Sharon.
Today, this concern continues to grow, especially as people have seen the effects of pesticides and the climate on plants, animals and pollinators.
"I thought one way we could get people to pay attention to the ecology of the land was to talk about honey and bees," said Sharon. "I saw a lot of 'save the bees' campaigns, but it wasn't just the bees that needed saving."
Prior to founding and developing the non-profit Cascade Girl Organization, Sharon's area of expertise was in human health as a nurse practitioner and a licensed clinical psychologist. She had no background in the study of insects, but knew a bit about honey production because her family had been dairy farmers and cheese makers in Wisconsin, where bees were an important part of farming and food production.
"As it turned out, honey was my 'gateway drug' to gardening, pollinators and beekeeping," she said with a chuckle.
Sharon's fascination with honey and pollinators soon turned into a curiosity about honey varietals, the chemistry involved in the process of making honey, the science of taste and the contribution of soil and blooming plants to various tastes. Like wine, honey has a "taste of place"—or terroir—and is influenced by the environmental characteristics of the region.
Sharon started sampling different types of honey and expanding her knowledge about this sweet topic. This eventually led to the creation of a signature Cascade Girl event—the Honey Festival—which started in 2014. In 2022 and 2023, Cascade Girl put Phoenix on the map by winning at the Good Food Awards, a national artisanal food competition.
Today, Sharon continues to share her knowledge through honey judging and tasting for various organizations and individuals.
Teaching the community
Education is a major component of Cascade Girl's mission, and the organization has educated over two thousand children throughout the years. Volunteers go to the schools and teach elementary school children about how bees, wasps and other pollinators live.
"We show the kids how to create a good habitat for these micro fauna, the types of plants which attract pollinators, and even how to avoid or deal with stings to increase kids' confidence," explained Sharon. "We've taught in schools in Phoenix, Central Point and in Josephine County."
The classes always end with a sweet treat when teachers pass out honey samples provided by Cascade Girl volunteers. Teachers can request a "Bees in the Classroom" experience through the Cascade Girl website or by calling 541-414-3264.
In previous years, Sharon said it was common for people to think of gardens as existing mostly for human enjoyment. Today, it's more widely known that pollinators and gardens are vitally connected.
"We want to teach people that flowers and trees are like grocery stores for pollinators!" said Sharon. "That's why it's important to plant with the pollinators in mind; so the store stays open 24/7. It gives them food to forage throughout most of the year."
Cascade Girl has grown their organization over the years — even during the pandemic. They recently started a new program called Bee Heroes America, which helps Oregon veterans by teaching them gardening and beekeeping skills. Both demand focus and attention, so when combined with mindfulness training, it's a good skill for anyone who has been exposed to the stress of battle or other trauma to learn.
"Bees are excellent teachers; they tell you if you're doing something wrong!" she said.
Cascade Girl also partnered with Southern Oregon University for a "train the trainer" program.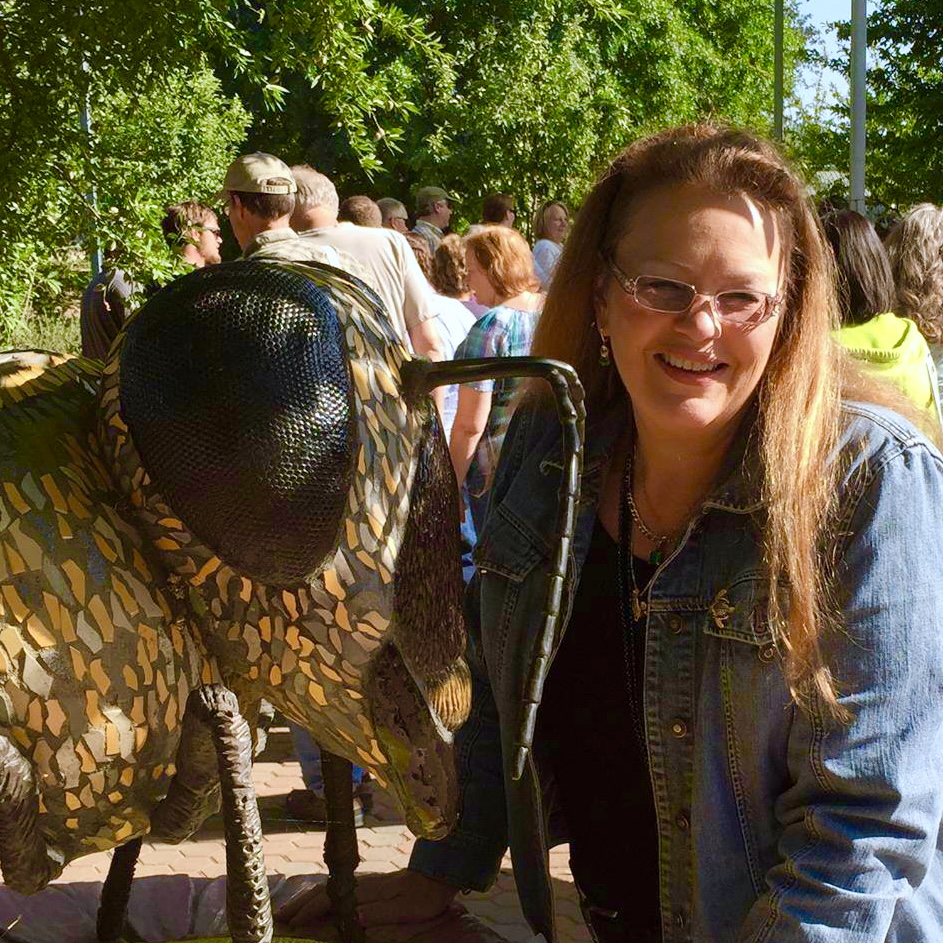 The program includes a group of students who are learning beekeeping on the farm at the university. This year, Cascade Girl is managing hives with the students and offering classes to improve their skills. Next year, the students will manage more of the project, hire the next group of students and teach them. The ultimate goal is for the students to take over the program in the third year.
Forging a better future for pollinators
An awareness about the environment has taught people a lot about pollinators, including that many native bees nest in the reeds or underground, so the land has to be healthy.
When the bumblebees look for nests in the spring, sometimes they'll come into the local apiaries and hover close to the ground, looking for old rodent holes to nest in.
"We're really interested in the health of the entire ecosystem, and not putting poison or certain types of pesticides into the air, ground or waterways," said Sharon.
By recognizing the vital role of pollinators and actively encouraging people to create a sustainable environment for them, Cascade Girl has not only safeguarded the intricate balance of our ecosystems, but also helped ensure the flourishing future of our planet for generations to come.
You can find out how to become part of Cascade Girl Organization's work, request a class, contribute or volunteer at www.cascadegirl.org.
Photo Credit: Cascade Girl