When you arrive at Phoenix Industrial Studios, the large water tower is one of the first things you see. It is a replica of a water tower from one of the valley's old orchards. Beyond the beautiful exterior, the water tower is used for irrigation and fire protection.
Similar to the water tower, the true purpose of Phoenix Industrial Studios is more than what it appears. At first glance, it is an inviting place to work and visit, and houses a variety of businesses offering numerous services and products.
But beneath the surface, Phoenix Industrial Studios tells a story of how education, design, art and nature weave together to create something truly unique.
Balancing functionality with the natural world
According to Paul Kay, manager of Phoenix Industrial Studios, the motivation behind the space was to apply design to influence behavior.
"All of the design work was intentional," he said. "We want people to become aware of how things work so the next generation of builders can create something special and continue to learn."
Paul explained that Phoenix Industrial Studios was also created with specific goals relating to education and resource efficiency.
"We want to educate visitors about water, infrastructure and much more," he said. With these goals in mind, water conservation, reuse and irrigation are important parts of how the entire space works.
Paul said the site was designed to also function as a native wetland plant nursery. One example is that the porch roofs are filled with pea gravel and irrigated to grow native wetland plants.
"I believe this helped keep the buildings from igniting during the Almeda fire," he added.
The buildings provide a structure for the plants to grow, and in return, the plants provide beauty, a natural habitat, and offer additional cooling. This creative type of structure also invites visitors to observe and learn more about how design and the natural world interact.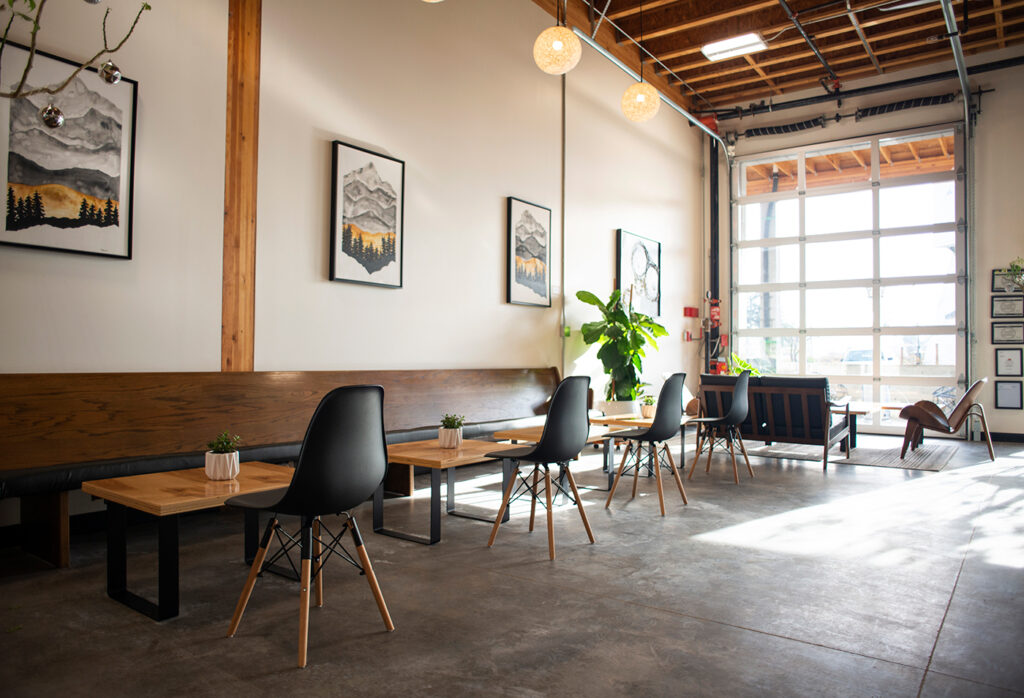 According to Paul, the building's infrastructure was made to be intuitive to those who use and interact with the spaces.
"There is minimal signage, which respects the rural aesthetics and encourages people's awareness."
On the interior of the buildings, everything is exposed, including the beams and electrical systems, so there are no mysteries hidden behind the walls.
"This method takes more time and skill, and requires specific materials," Paul said. But the end product is open and airy, and creates more flexibility for businesses who inhabit the space.
A part of nature
Paul said Phoenix Industrial Studios also set out clear resource efficiency goals for energy, water, soil and biology.
"We chose this site because of its attributes, including that it's in the geographic center of the valley with multiple water resources," he said. The availability of various water resources allows advancement of ecological technologies of water treatment, reuse and conservation, so the businesses may operate more in harmony with the natural resources.
A direct connection to the Bear Creek Greenway was developed to support non-motorized transportation. Convenient access for pedestrians and bicycles reduces consumption of fossil fuels. Special facilities are provided for bicycles, including covered parking and a Fixit bike repair station.
Additionally, Phoenix Industrial Studios is mindful of native plants, pollinators and other critters.
"The squirrels and birds determined the locations of the plum trees," he said. "We planted the buildings in other places."
Phoenix Industrial Studios expresses a vision that has been a decade in the making and is presently about half constructed.
Learn more about the Phoenix Industrial Studios: https://phxindstudios.com/