July 3, 2023 | Rebecca Scott for Travel Phoenix Oregon
In 2021, over 57 million people experienced mental illness, according to the National Alliance on Mental Illness (NAMI).
That's 1 in 5 adults.
Imagine standing beside four of your closest friends or relatives. One person in that group is suffering from a mental health condition. It may even be you.
Whether in a small community or a sprawling city, mental health issues are quite common, even if they are well-hidden from friends, family and co-workers.
Since 2002, Phoenix Counseling Center has helped people with substance abuse disorders and mental health conditions achieve transformation and recovery during their darkest hours.
Local help and support
Mental illness is a complex issue that affects every facet of someone's life. For many people, change and recovery is possible, especially when they start treatment early and play an active role in their recovery.
For over 20 years, Phoenix Counseling Center has helped people through the recovery process.
They originally focused on serving clients involved in DUI incidents, according to Jackie Lien, LPC and executive and clinical director for Phoenix Counseling Center.
"If you're arrested or cited for a DUI, you must attend court-ordered treatment," said Lien.
The counseling center's DUI program is highly structured; it includes group and individual sessions and educates participants about the dangers of substances and driving under the influence. Additionally, participants must abstain from substances for the 90 days they are in the program, as well as get regular drug screenings.
Phoenix Counseling Center later added counseling for patients with substance abuse disorders, and in 2017, started offering mental health services for individuals 12 years and older.
"We do a lot of trauma work with our patients," she said. Processing trauma is an integral part of the recovery process, whether someone has a substance abuse disorder or other mental health condition.
Phoenix Counseling Center continues to expand their services and provide help in many areas, including substance use, relapse prevention, trauma work and parenting skills.
They also offer a Family Connections program for new mothers and their babies, which encourages attachment and bonding.
"Mothers attend class with their babies and participate in bonding exercises. They also work on any mental health issues they may be facing."
Preparing the next generation
As the state of mental health evolves, Phoenix Counseling Center remains steadfast in their mission to help others.
Employing over 20 counselors and residing in four buildings in Phoenix, their comprehensive services and experienced counselors set them apart from other agencies in the Rogue Valley.
Additionally, Lien said they train the next generation of counselors. Student interns arrive at the counseling center from Southern Oregon University, Rogue Community College and other online institutions.
"We do a lot of training here. I'm training more people because there's a shortage of counselors everywhere, but especially in the Rogue Valley."
Interns at the counseling center will see clients after a couple months of training, group observations and assessments. After completing those prerequisites, they take on clients, lead groups and manage their own caseloads.
"We are a team of people who are gentle with others and accept everyone who walks through the door. This feels like home to our patients when they come to us."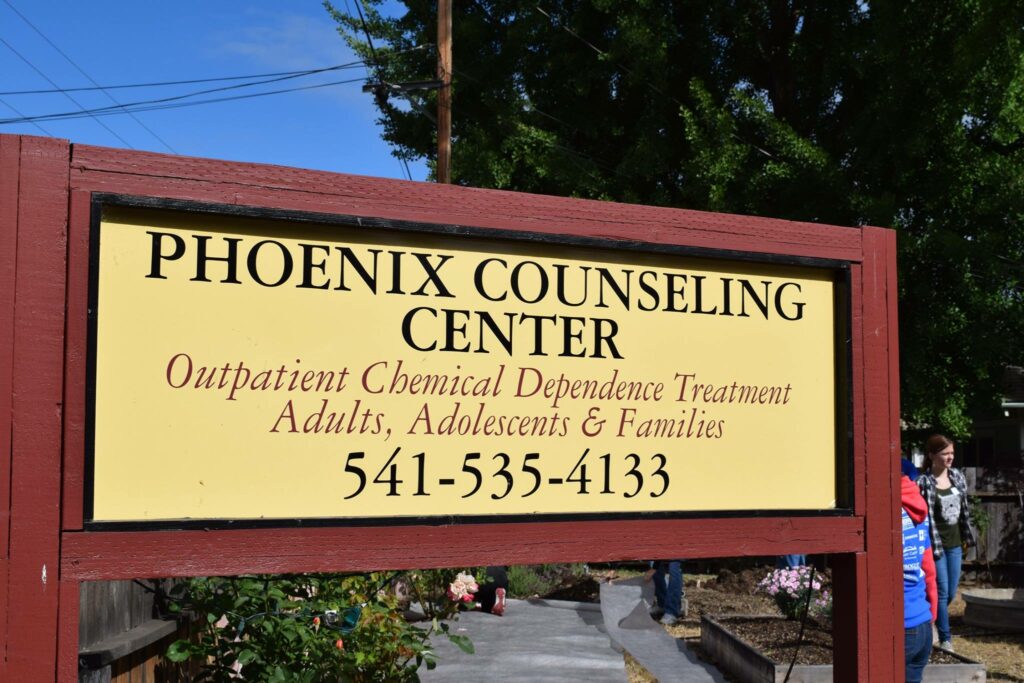 The tenuous state of mental health
Like many other businesses, the pandemic changed how Phoenix Counseling Center operated. But these changes led to new innovations and more diverse ways to offer care.
"We worked from home during the pandemic and offered telehealth services, which we've kept doing," said Lien. "Now we see people on Zoom who have trouble getting to our physical location."
However, the pandemic also changed the landscape of mental health, and not for the better.
"Our mental health program has grown significantly since COVID. We're seeing people struggling with more intense symptoms and a higher rate of suicidal thoughts," she said.
Additionally, the number of youth with mental health conditions has increased. The situation is also more difficult for the counselors because of the increase in symptoms and their severity.
Reflecting on the lockdown and the start of the pandemic, Lien said many people struggled with suddenly being stuck in their houses, which led to an increase in substance use and depression. When people re-entered society after being isolated, they experienced an increase in anxiety.
In Phoenix and Talent, the Almeda fire added more stress to people who were already emotionally weary from the pandemic. People suffered many losses from the fire and the pandemic, which compounded feelings of distress.
"I think the world is a different place in many ways now. There have been numerous changes and people don't know what to do or expect next, which creates anxiety."
An increase in drug use and substance abuse has also been on the rise.
"If someone comes to see us and they're using drugs, we work on that first," Lien said.
Currently, the counseling center is focused on treating fentanyl and heroin addiction since there has been a rise in overdoses in the valley. They also have a box outside of their office with boxes of Narcan available to the public.
Mental health has changed on a collective and individual level in the aftermath of the pandemic, wildfires and a turbulent economy. However, Phoenix Counseling Center continues to work with their current clientele, accept new patients, and help people work through traumas and improve their lives.
If you would like to inquire about being a patient, visit their website.
Photo Credit: Phoenix Counseling Center Facebook page