Art tells many tales. It shares stories of time, place, beauty, age, wonder and change. It is a medium through which artists have the opportunity to record a moment in time.
Local artist Sarah Burns has taken her artistic talents in many directions over the years, including capturing the beauty of Phoenix through her landscape paintings.
Pursuing a lifelong passion
Sarah has been interested in art almost her entire life, and knew she wanted to be an artist since she was four or five years old.
"I embraced every opportunity to take all the art classes I could," she said. "I went to art school in Portland, have done a number of independent studies and attended many art workshops."
Sarah also has a desire for travel and allows it to inspire her landscape paintings.
"I've painted all over Oregon — from Columbia Gorge to John Day, and Brookings. I have also painted when I traveled in Mexico and Europe."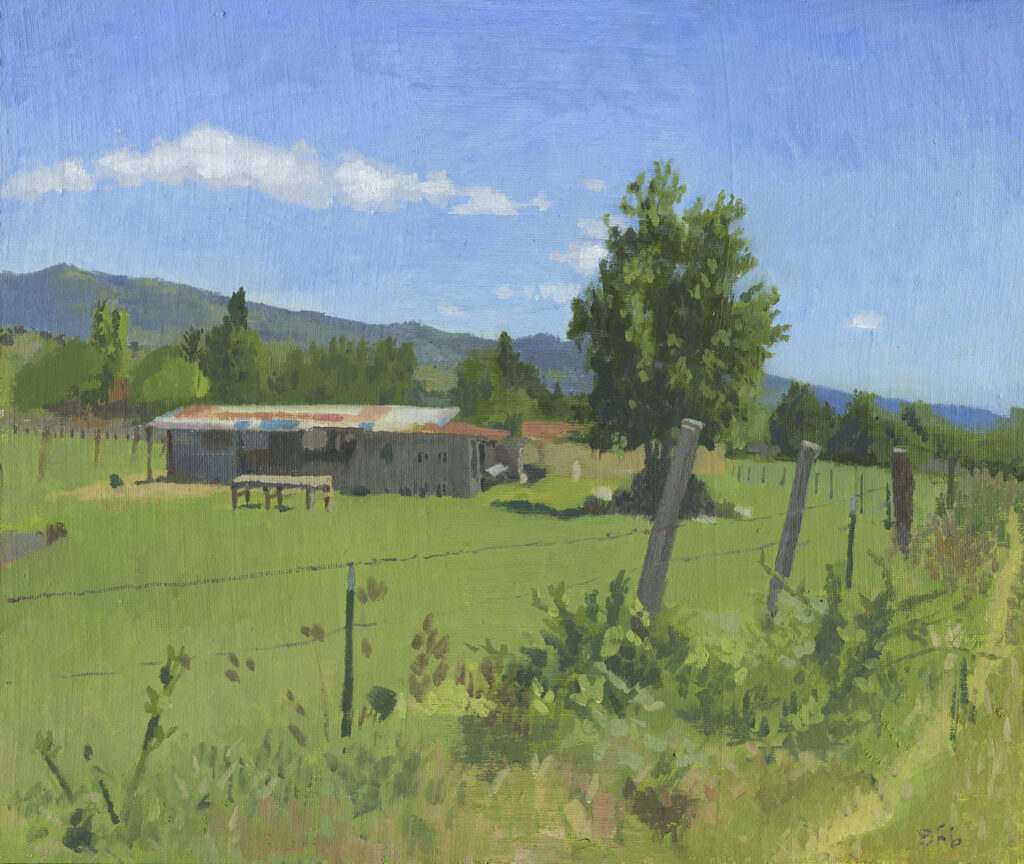 Finding inspiration in Phoenix
Sarah has lived in the area for a long time, and grew up in the Rogue Valley. In 2009, she and her husband bought a house in Phoenix.
"Once we purchased a house here, I wanted to get acquainted with the town," said Sarah.
She had been interested in landscapes and plein air painting, and wanted to create more pieces in that style. Sarah also liked to focus on scenes of older buildings with natural landscape features — things like mountains in the distance and striking colors.
Sarah enjoyed the vibe of Phoenix and how it felt overlooked sometimes. She especially loved the look of the downtown area, at a time before many of the newer buildings existed.
"One afternoon, I set up my easel and painted outside, and I liked how it turned out," she said.
Since then, Sarah has created 12 years worth of paintings.
In addition to the beautiful scenery, Sarah loves how Phoenix is a part of the Rogue Valley's farming and agricultural history. Many things have shifted in the valley over the years, and her paintings tell the story of this change.
For Sarah, it is interesting to see old infrastructure that was built for agriculture — like the pear packing plant in Phoenix — and how it has evolved.
"Phoenix is a wonderful place and I love living here. I enjoy what we have and find beauty in it."
Showcasing Phoenix through art
Painting has always been an important part of Sarah's life, and her style has developed from years of practice and training.
"Art and artists can't be categorized and your style emerges as you continue working."
In addition to her landscape paintings, Sarah has done a lot of work with portraits, anatomy, illustration and digital illustration. She also teaches and has a studio in Talent, called Project Space, where she has pop-up art shows and classes.
But her paintings of Phoenix will always remain special, as she has captured the city's natural beauty through her art.
"I think Phoenix is a great, quirky town and I love it here."