March 27, 2023 | Rebecca Scott for Travel Phoenix Oregon
Almost three years after the Almeda fire, rebuilding is still happening in Phoenix. New businesses are popping up and old businesses are returning. But most importantly, more housing is under construction.
Like a true phoenix, Oak Ridge Estates is a manufactured housing community that has risen out of the ashes of what used to be Bear Lake Estates. In September 2020, the Almeda fire wiped out all previous housing units, as well as the clubhouse and all resident amenities. But after years of clean up and construction, Oak Ridge is building new houses and welcoming people to find their forever homes again.
The rebuilding journey
Currently, there are over 20 houses completed at Oak Ridge Estates, according to property manager Denise Carr.
In addition to the manufactured houses, the new community has a modern clubhouse with a kitchen, gathering spaces, a fitness center with state-of-the-art workout equipment, children's playground, a pool, spa, and will have a large dog park and several landscaped common areas.
The vision for Oak Ridge Estates has been years in the making, but it's all starting to come together.
"The project has been broken down into Expansion I and Expansion II. Within each expansion are phases," explained Denise. "Within Expansion I, we have completed two of the five phases thus far."
For the past nine or so months, Oak Ridge has been accepting deposits from potential homeowners. Simultaneously, construction crews have been prepping the grounds, bringing in gravel, working on landscape and laying asphalt. Oak Ridge is also obtaining certifications of occupancy for the completed homes so people may start moving in.
According to Denise, Oak Ridge also reached out to previous tenants who were at Bear Lake Estates before the fire.
"Some people have moved on and live elsewhere or with family, but we wanted to reach as many people who were displaced as possible," she said.
While the price of the houses has increased, Oak Ridge is proud to use the best quality products available for the new builds.
"We are building everything new from the ground up," said Denise.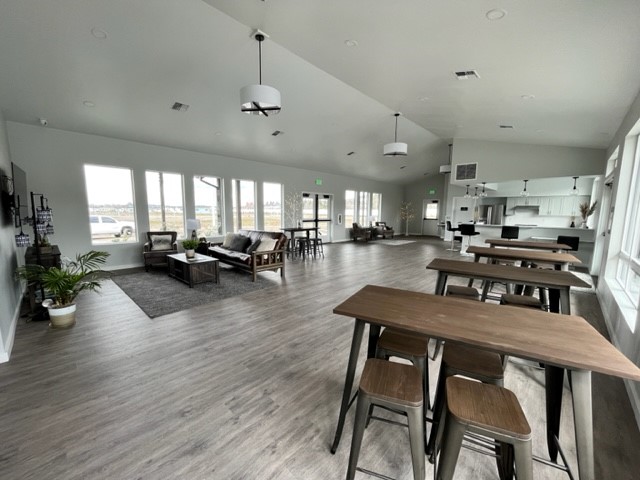 A focus on community
Once the entire community is complete, Oak Ridge will have 210 spaces filled with 3- and 4-bedroom homes. There are also many new amenities.
"We're turning the old pond that was here into an expansive dog park and dog run. It's something a lot of people wanted," she said. "Previous residents had pets, but nowhere to take them."
Additionally, several areas throughout the community are common areas where residents will be able to sit and talk to their neighbors. Inside the clubhouse, there's a living area and a full kitchen for the residents to use. There is also a new playground for children and families to enjoy.
"We want to make sure we're providing the latest and greatest things for our families," she said.
To celebrate the time, effort and work that has gone into creating the new manufactured housing community, Oak Ridge Estates will hold a grand opening on May 18th from 1-4 p.m. They will invite several local organizations who have helped the community, including the City Council, fire and police departments, and the Phoenix Oregon Chamber of Commerce.
"It will be a day of celebration that marks a new beginning for Phoenix," said Denise.
Building a stronger future
The Almeda fire destroyed about 400 homes in Phoenix, and Oak Ridge Estates (formerly Bear Lake Estates) had a little over half of those.
"We're trying to bring back housing as quickly as we can and make it as affordable as possible," said Denise.
Since the beginning of their journey, Oak Ridge's ultimate goal has been to provide housing. However, it is a time-consuming process, as each house has to be inspected before people may move in. The team at Oak Ridge is looking to have everything completed within five years, but hopefully much quicker.
"We want to be a light in the community and offer high quality, affordable housing for the people of Phoenix," she said.