February 27, 2023 | Rebecca Scott for Travel Phoenix Oregon
The official Grand Opening for the Phoenix Branch of Umpqua Bank will be taking place on Friday March 3rd. The Jackson County Chamber of Commerce will be doing a ribbon cutting at 9:00 and at 9:30 they will be presenting 5 local nonprofits with $5,000 donation checks courtesy of the Umpqua Bank Charitable Foundation. There will be 3 different local small businesses spotlighted and refreshments served throughout the day.
More than two years after the Almeda fire, Phoenix and Talent continue to rebuild, experiencing growth and opportunity where there was once destruction and loss. 
Many businesses have returned to Phoenix since the fire, which now includes Umpqua Bank. This financial institution is a staple of the community, and people are happy to walk through its doors once again.
A time of chaos and loss
Immediately after the Almeda fire, there was disorder and confusion, according to Chris Browne, VP, Community Manager with Umpqua Bank.
The fire destroyed the Phoenix branch, but that didn't stop Umpqua Bank from helping people in the community who had lost their homes or were temporarily evacuated.
"We helped people who were displaced find places to stay," said Browne.
But after Umpqua Bank burned down, Browne wasn't sure what the future held.
"I emailed our CEO and explained why I thought we needed to rebuild, and how it would help Phoenix and Talent through this disaster," he said.
Shortly after, Browne received assurances from the CEO that they would rebuild the branch. Then it was full steam ahead to secure a new location.
Opportunity arises from destruction
Initial discussions surrounded where Umpqua Bank should build its new branch — at the old location or somewhere completely new. The previous branch was large and had a second floor that was essentially empty after the pandemic.
"Many of the jobs had become remote," said Browne. "I knew that a new branch would be smaller than our old one."
However, only a couple of days after the fire, and before Umpqua Bank had decided to rebuild, Browne's thoughts drifted to the future. And he thought about a building on Main Street which used to be a bank — and soon could be again.
"I attended Phoenix High School, and back then, that building was a First Interstate Bank," explained Browne, whose mom worked there at the time. "So I immediately thought of that as an option for our new branch."
Browne then called the owners of Phoenix Tire and asked if the old bank building still stood after the fire. Once the roads reopened, Browne visited the building.
"The vegetation right up to the building was burned, but the structure wasn't. From that point on, I lobbied for that location as an option."
Additionally, the Main Street building had a lot going for it. The project would be a lot less time consuming because there was already an existing structure. After viewing 4-5 different sites, Browne said they decided to use that location and make it a bank once again.
"We knew we wanted to be in Phoenix, and the biggest draw of this spot was that it had an existing vault and drive-through."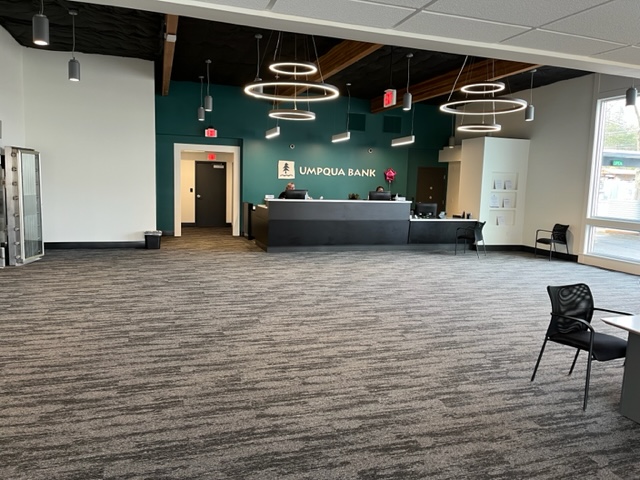 Returning to Phoenix
Umpqua Bank reopened on January 23, 2023, welcoming customers back to their local bank.
The bank has two drive-up lanes — one which is an ATM, and the second has the traditional tube and video monitor system. But one thing that Browne especially loves is the floor plan. Even though the new branch is smaller than its predecessor, the space feels large and open.
Additionally, Umpqua Bank's new location is centrally located in town.
"Anyone who lives or has lived in Phoenix and Talent knows where that building is. It's easy to find — which I think is the biggest draw," said Browne.
Opening the new branch has been a great experience for Browne and his staff.
"For almost two and a half years, the rest of my staff worked at other branches and still saw our Phoenix customers," he explained. "But I didn't work specifically at a branch. Coming back now, I'm seeing people I haven't seen in over two years."
The community's response to Umpqua Bank's return has been overwhelmingly positive. People are happy to have their local bank back.
For Browne, the bank's return extends far beyond their new building. Strong emotional ties to their customers and the community has left a lasting impression on him and his staff.
"It feels good to be part of the rebuilding process in Phoenix and Talent," he said.
Location
404 N. Main Street
Phoenix, OR 97535