Mike Ward, owner of Dragon Crystals in Phoenix, has had a lifelong passion for rocks and rock collecting.
What began as a side hobby eventually evolved into a local business which sells amazing crystals, gems and minerals in the Rogue Valley.
The Start of Something Great
Ward's love of rock collecting was inspired by his mother. "My mother was a collector of rocks, coins, stamps — she collected everything. And she got me into it too," he explained.
Ward has lived in the Rogue Valley for ten years, bringing his love of rocks to the area. "I've been collecting rocks most of my life, so doing this made a lot of sense. And there are a lot of people around here who like rocks," said Ward.
In the beginning, he sold rocks from a roadside stand near Ashland. His initial venture was successful with customers, so he decided to take the next step. And the rest was history.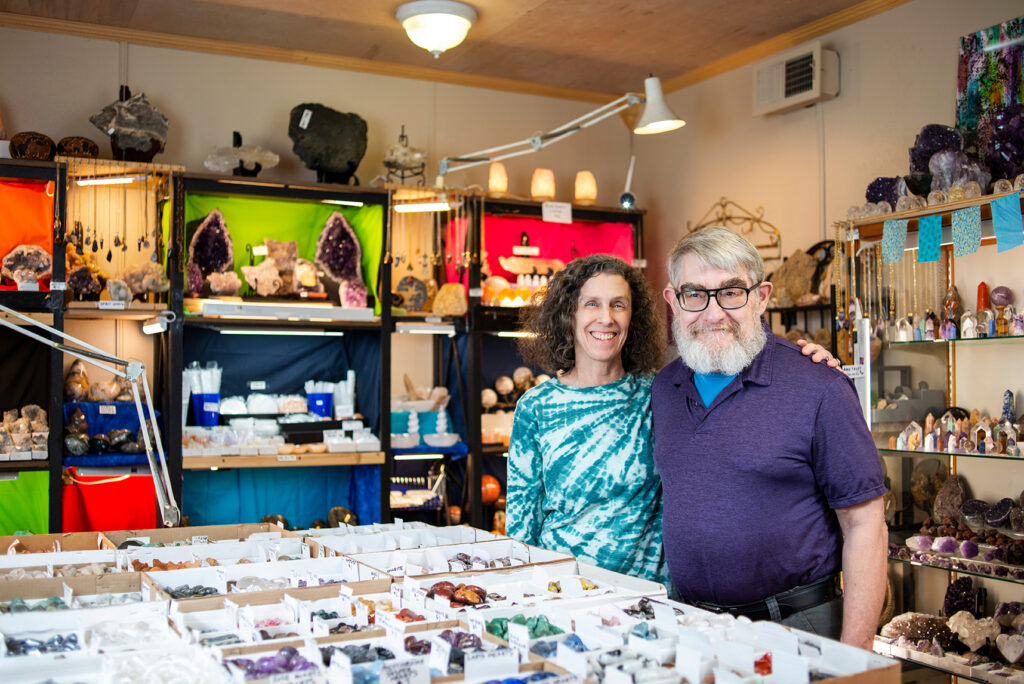 Building a New Business
After the success of his stand, Ward opened a shop in Talent which he operated for 4.5 years. Unfortunately, the store was destroyed in the Almeda Fire.
"There weren't a lot of places to build or re-open the store, so we sold stuff out of our garage for a few months," Ward said.
But then he found a storefront in Phoenix, where Dragon Crystals is now located.
"It has been a very positive experience," said Ward. "We were found by our previous customers, and we're getting a lot of new customers too."
Ward said they get a variety of people in the store, making each visit a unique experience.
To ensure the store has something for everyone, Dragon Crystals gets their rocks, gems and minerals from 3-4 wholesale suppliers.
According to Ward, there's usually 30-40 common items people ask for a lot, and then hundreds of other varieties of rocks, crystals and gems.
A Strong Future
Ward's love of rocks and rock collecting has led him on a fascinating journey, and given him the ability to share his passion with other rock lovers.
"I'm blessed because I'm doing something I love, so it's not really work," he said.
Photo Credit: Dragon Crystals Facebook page